A joint mission that leverages the best of what the National Reconnaissance Office (NRO) and U.S. Space Force (USSF) have to offer to accelerate our advantage in space is now loaded atop a United Launch Alliance (ULA) Atlas V 551 rocket for launch Aug. 29 at 8:34 a.m. EDT (1234 UTC).

The most powerful variant of Atlas V — with a full complement of five side-mounted solid rocket boosters — will deploy the SILENTBARKER/NROL-107 mission using a Centaur upper stage.

The launch will be performed under the auspices of NRO's Office of Space Launch (OSL) and the Space Force's National Security Space Launch (NSSL) Assured Access to Space (AATS) at Space Systems Command (SSC).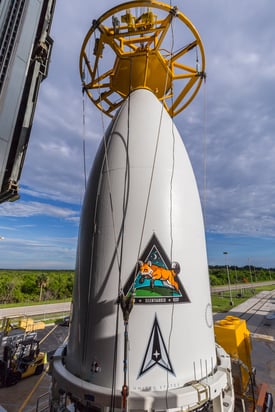 The SILENTBARKER payload, encapsulated in the rocket's 17.7-foot (5.4-meter) out-of-autoclave (OoA) payload fairing, arrived at ULA's Vertical Integration Facility (VIF) on Aug. 17 for hoisting atop the Atlas V. Technicians connected the payload and launch vehicle to begin combined operations that lead to launch. Final testing and electrical checkouts will be performed before the rocket is transported to Space Launch Complex-41 for its countdown and liftoff.
This Atlas V, designated AV-102, stands 196 feet (59.7 meters) tall and will weigh 1,292,221 pounds (586,142 kg) once fully fueled for liftoff. It leaves the pad on 2.7 million pounds (12 megaNewtons) of thrust from the kerosene-fueled first stage main engine and solid motors.

The rocket is known as the Atlas V 551 variant, or "The Bruiser" as ULA President and CEO Tory Bruno affectionately calls it. The configuration has flown a dozen times, including launches of NASA's New Horizons spacecraft to study Pluto, Juno to orbit Jupiter and a variety of national security missions.

This will be the 98th flight of Atlas V since 2002, the 680th Atlas launch since 1957 and the 379th from Cape Canaveral.

It is equipped with GPS Enhanced Navigation, a system to improve the Centaur's navigation performance and enables the upper stage to achieve even more accurate orbits.

Atlas V is a reliable workhorse for national security, successfully delivering more than 50 missions into space to serve the Space Force and NRO. This will be the 18th and final NRO launch on Atlas V since 2007, a legacy that utilized the full spectrum of the rocket's performance configurations. The history spans 9 missions launched from Vandenberg Space Force Base in California and this upcoming 9th launch from Cape Canaveral Space Force Station in Florida. ULA is transitioning future missions to the next-generation Vulcan rocket that will offer unprecedented flexibility in a single system.

SILENTBARKER is a joint Space Domain Awareness (SDA) mission by the NRO and Space Force to meet Department of Defense (DoD) and Intelligence Community (IC) space protection needs. NRO and USSF have a shared interest to strengthen the nation's SDA and Indication & Warning capabilities to enable timely decision making and unity of effort to defend DoD and IC critical capabilities against current and projected threats.

This mission will strengthen NRO's ability to provide a wide range of timely intelligence information to national decision makers, warfighters and intelligence analysts to protect the nation's vital interests and support humanitarian efforts worldwide.

SILENTBARKER is designed to detect and maintain custody of space objects. This capability enables Indications & Warnings of threats against high-value assets in geosynchronous orbit.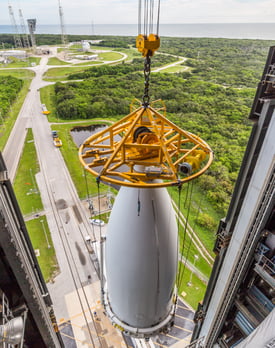 Ground-based observation of objects in geosynchronous orbit are limited by distance, geography and weather. By operating in geosynchronous orbit, SILENTBARKER overcomes these limitations and minimizes the observation gaps in geosynchronous orbit.

The NRO is building the space systems that allow the U.S. to see it, hear it and sense it. The capabilities, in space and on the ground, employ cutting edge technologies to provide more information, faster than ever before to help solve the nation's hardest intelligence challenges and provide our warfighters, analysts and policymakers with real time situational awareness and vital intelligence that can only be obtained from space.

From providing the warfighter geolocations and situational awareness tools, to providing high resolution imagery to intelligence analysts to inform decision making, to providing support to aid natural disaster responses such as wildfires, the men and women of the NRO are making the world and our country a stronger, safer place.
Learn more about the SILENTBARKER/NROL-107 launch
See more photos in our Flickr album