The Centaur V upper stage for the inaugural United Launch Alliance (ULA) Vulcan rocket arrived from the factory at the Cape Canaveral Space Force Station launch site on Nov. 13 and was integrated atop the booster on Nov. 19.
This first flight article of the next generation Centaur will power the Certification-1 (Cert-1) launch, which is targeted for liftoff Dec. 24 at 1:49 a.m. EST (0649 UTC) when orbital mechanics are acceptable to deliver the commercial Astrobotic Peregrine lunar lander on its voyage to the Moon.
"We have worked diligently to develop this evolutionary rocket and certify the first vehicle for flight," said Mark Peller, ULA vice president of Vulcan Development. "This next generation launch vehicle incorporates new technology at all levels, powered by American ingenuity to meet our nation's need for expanding space missions."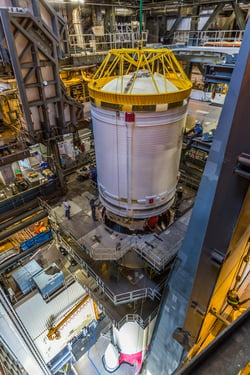 The Cert-1 Centaur V will execute three firings of its dual RL10 engines to achieve three distinctly different orbits: a low Earth orbit, a highly elliptical orbit for lunar transfer and an interplanetary solar orbit into deep space.
The R/S RocketShip delivered the Centaur V from the ULA factory in Decatur, Alabama to the Florida launch site. After offloading and horizontal preps, the pressure-stabilized, stainless-steel stage was brought to the Vertical Integration Facility (VIF) and hoisted atop the Vulcan booster stage.
The assembled rocket will undergo combined testing of sub-systems and components over the next few weeks before rolling to Space Launch Complex-41 to undergo a Wet Dress Rehearsal to practice the countdown to launch.
Cert-1 is the first of two flight tests required for ULA's certification process with the U.S. Space Force. ULA has worked in close partnership with the Space Systems Command throughout the design, development, testing and production of our new rocket for assured access to space. The Space Force selected Vulcan as the No. 1 offeror and "best value" choice in the Phase 2 National Security Space Launch competition.
Learn more about the Vulcan Cert-1 launch
See our Cert-1 photo album