The capstone satellite to the U.S. Space Force Space and Missile Systems Center's Advanced Extremely High Frequency (AEHF) communications system has been mounted atop the United Launch Alliance Atlas V 551 rocket for its ride into orbit on March 26.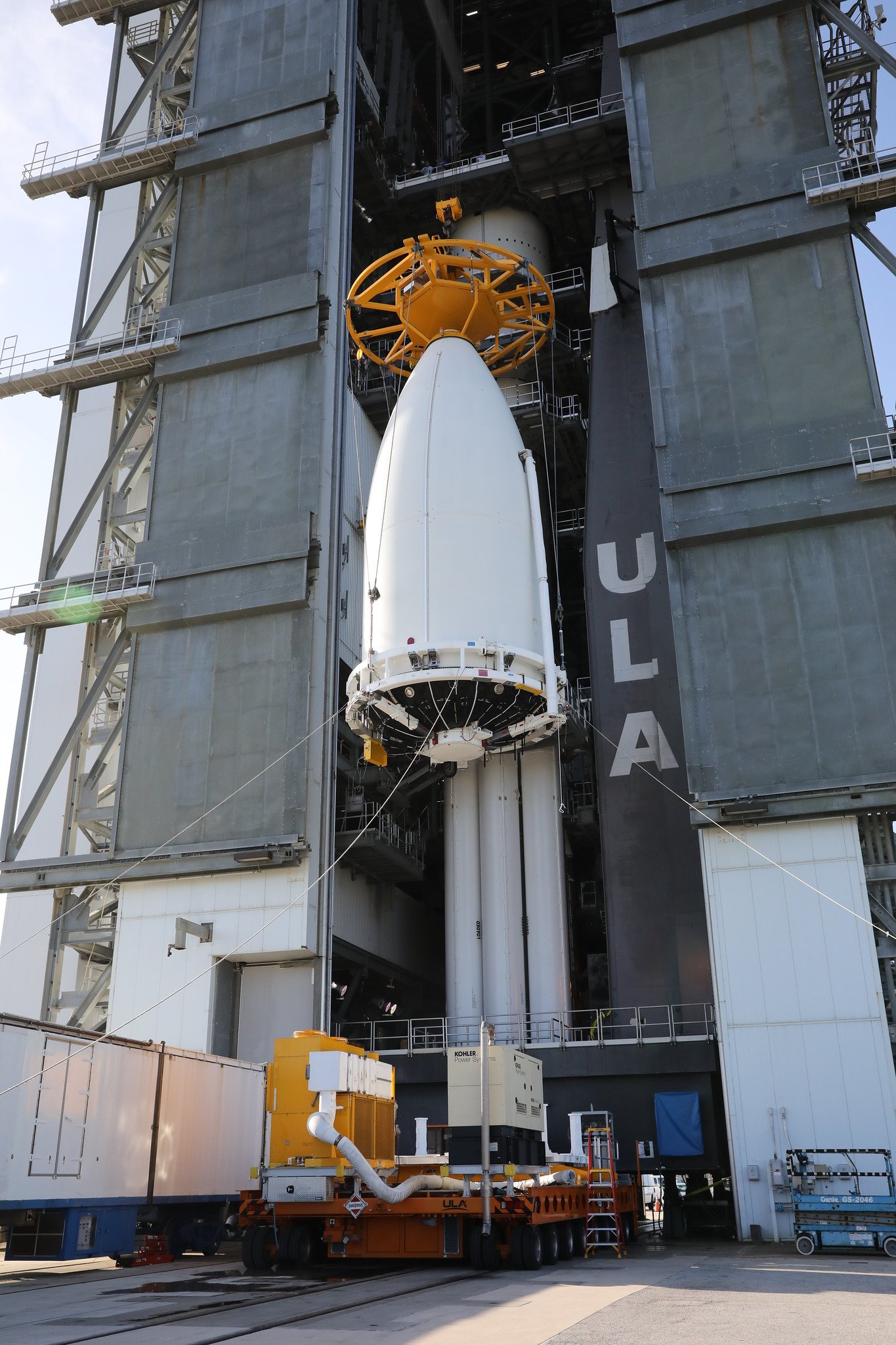 The sixth and final spacecraft in the series was delivered to the Vertical Integration Facility (VIF) at Cape Canaveral to join the rocket on March 11. It was moved in the predawn hours from its payload processing facility to the VIF aboard ULA's KAMAG transporter (as pictured here), then hoisted onto the rocket by the building's heavy-duty crane.

Already encapsulated in the payload fairing for flight through the atmosphere, the satellite is fueled and ready for liftoff aboard 197-foot-tall Atlas V.

Atlas V rockets have launched all of the AEHF satellites, starting with AEHF-1 in 2010. The secure military communications system is built by Lockheed Martin for the Space Force.

Deploying the AEHF constellation over the past 10 years is an example of ULA's commitment to serving U.S. national security. More than 80 launches of our Atlas and Delta rockets have revitalized American space capabilities by deploying advanced fleets of modernized surveillance, communications and navigation satellites.

ULA is positioned to continue that legacy of dependability in the new era of competition and affordability with our Vulcan Centaur rocket that is purpose-built for the emerging security needs of the nation.

AEHF-6 is a sophisticated communications relay satellite that will provide the highest levels of protection for our nation's most critical users. It features encryption, low probability of intercept and detection, jammer resistance and the ability to penetrate the electro-magnetic interference caused by nuclear weapons, all essential when communications can be the top priority.

With the rocket and payload now assembled, a tip-to-tail electrical connectivity testing of the Atlas V and AEHF-6 will be completed. The Integrated Systems Test will verify proper functionality of launch vehicle systems, conduct a simulated countdown and run through the launch sequence to ensure all events will occur as planned.

The Mobile Launch Platform (MLP) will move the Atlas V to the pad the day before liftoff. The combined 1.9 million pounds of platform and rocket travel by rail tracks nearly 1,800 feet to the launch site.

Atlas V will be loaded with 25,000 gallons of RP-1 kerosene fuel immediately after rollout and 66,000 gallons cryogenic liquid oxygen and liquid hydrogen during the countdown to produce a 1,278,919-pound, fully-fueled rocket for liftoff.

This launch will mark the 138th ULA mission and 86th dedicated to U.S. national security. It will be the 83rd Atlas V and 11th to fly in the powerful 551 configuration.