United Launch Alliance (ULA) technicians have assembled the Atlas V 541 rocket to launch the National Oceanic and Atmospheric Administration's (NOAA's) Geostationary Operational Environmental Satellite (GOES)-T spacecraft that will provide weather forecasters with advanced imagery and atmospheric measurements.

The Atlas V rocket will deliver GOES-T into a high-perigee, low-inclination optimized geosynchronous transfer orbit via three Centaur upper stage engine firings. This orbit puts the satellite closer to its operational position in space, thereby saving onboard fuel that translates into a longer mission life.

NASA's Launch Services Program (LSP) at Kennedy Space Center is managing the launch service. Launch from Florida's Cape Canaveral Space Force Station is scheduled for March 1 at 4:38 p.m. EST (2138 UTC).

The satellite, built by Lockheed Martin for NOAA and NASA, will be renamed GOES-18 once successfully in orbit. It is slated to assume the GOES West operational location.

The observatory's instruments will track storm systems, lightning, wildfires, dense fog, and other hazards for meteorologists and scientists. The satellite also detects and characterizes air pollution, volcanic ash clouds, and vegetation, and features a suite of instruments that monitors approaching space weather.

Assembly of the rocket, designated AV-095, began Jan. 31 with the Launch Vehicle on Stand (LVOS) milestone. The 107-foot (33-meter) long first stage was delivered to the VIF, hoisted upright and positioned aboard the Mobile Launch Platform (MLP) pedestals.
The following days, Feb. 1-4, featured attachment of four GEM 63 solid-propellant motors to the first stage. The boosters will provide nearly two-thirds of the total thrust at launch to power the Atlas V on its journey to orbit.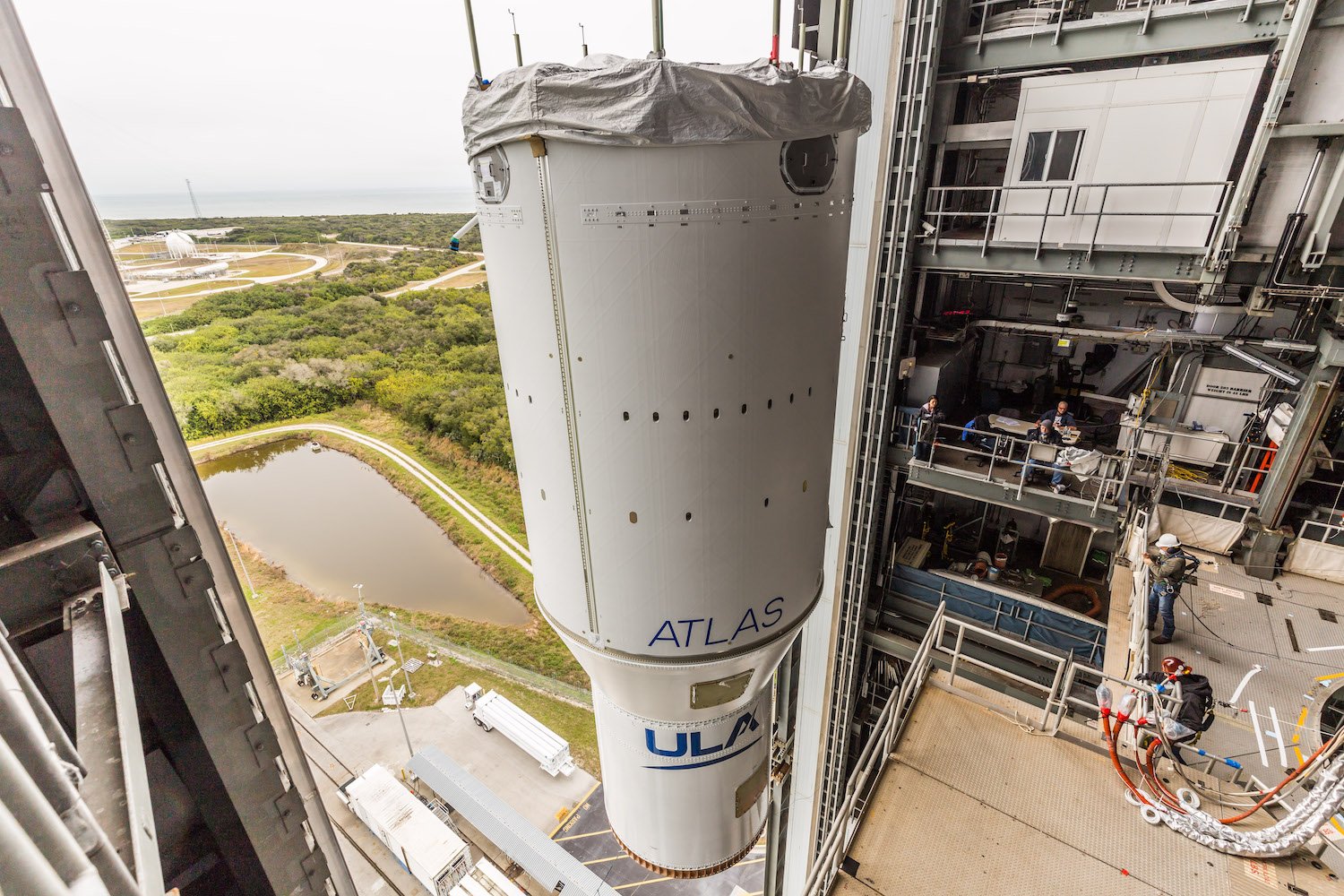 The pre-assembled structure featuring the interstage, the Centaur upper stage sporting its RL10C-1 engine, and the lower halves of the payload fairing was raised atop the rocket on Feb. 7 to complete initial buildup of the launch vehicle.

Testing of rocket systems will be completed over the coming days, leading to the encapsulated payload arriving at the VIF for integration atop the Atlas V in mid-February. The completed rocket will stand 196 feet (59.7 meters) tall and weigh 1,188,812 pounds (539,236 kg) once fully fueled at launch. It will lift off from Space Launch Complex-41 on 2.3 million pounds (10.44 mega-Newtons) of thrust.

The Atlas V 541 rocket configuration is making its eighth flight with GOES-T. The 541 first flew in November 2011 to successfully launch NASA's Mars Curiosity rover to the red planet. It also has performed missions for the National Reconnaissance Office, carried the GOES-R and -S satellites into space, and most recently launched the Mars 2020 mission with the Perseverance rover and Ingenuity helicopter.
Learn more about the Atlas V GOES-T launch