A national security payload of vital importance to the United States is mounted atop the only rocket in the world today capable of launching it -- ULA's Delta IV Heavy.

With the vertical integration of the payload and rocket now complete, the final phase of the NROL-82 launch campaign is underway at Vandenberg Air Force Base in California for the targeted April 26 liftoff.

The space asset being launched is a payload designed, built and operated by the National Reconnaissance Office (NRO) that supports the agency's national security mission to provide intelligence data to senior policy makers, the Intelligence Community and Department of Defense.

Encapsulated in a 63-foot-long (19-meter) composite payload fairing, the NROL-82 payload was delivered to Space Launch Complex (SLC)-6 on March 31. After entering the Mobile Assembly Shelter (MAS), the transporter parked next to the launch table for an overhead crane to hoist the payload atop the rocket and position it for connection to the Delta Cryogenic Second Stage (DCSS).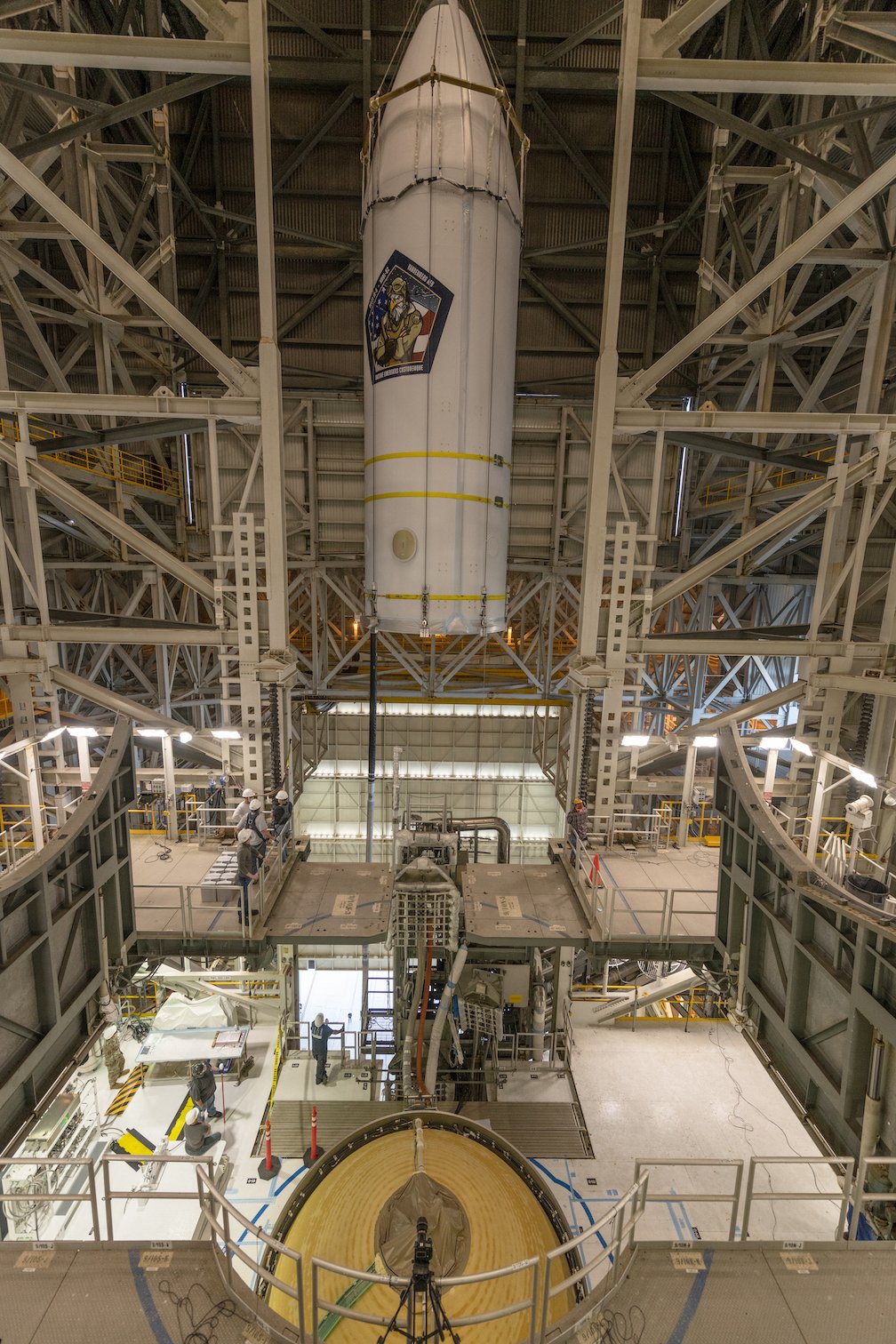 See our Flickr album for high-resolution photos of the Delta IV Heavy rocket being readied for NROL-82.

The fully assembled Delta IV Heavy rocket stands 233 feet (71 meters) tall and will weigh 1.6 million pounds (725,750 kg) once fueled during the countdown to liftoff.

Delta IV Heavy serves the nation's high-priority U.S. Space Force and NRO space programs with distinction as America's proven heavy-lifter. The vehicle also launched NASA's Orion capsule on its first orbital test flight and sent the Parker Solar Probe on its journey to become the fastest robot in history.

Launch pad work to ready this rocket began Feb. 15 when it was rolled out from the Horizontal Integration Facility, where the three common booster cores and DCSS were attached together. The rocket was hydraulically lifted upright on the launch pad Feb. 16.

Standard testing of the rocket's systems was conducted and a Wet Dress Rehearsal (WDR) to practice day-of-launch operations that included fueling all three boosters and upper stage was performed on March 16.

After the WDR was completed, the Delta IV Heavy was drained of the liquid hydrogen and liquid oxygen propellants, safed and powered off. The Mobile Service Tower (MST) and MAS protect and secure the rocket during its stay on the pad for vertical processing.

This will be the 143rd ULA mission since the company was formed, our 90th in support of U.S. national security and the 9th Delta IV Heavy rocket launch for the NRO.

A countdown status blog and live webcast will be available on launch day here.