Boeing's CST-100 Starliner spacecraft has been mounted atop its ride to space, the United Launch Alliance Atlas V rocket, in preparation for the Orbital Flight Test (OFT) to the International Space Station in collaboration with NASA's Commercial Crew Program next month.

Early this morning, the capsule traveled from Boeing's Commercial Crew & Cargo Processing Facility (C3PF) at Kennedy Space Center to ULA's Vertical Integration Facility (VIF) at Cape Canaveral Air Force Station for hoisting atop the waiting Atlas V.

Celebrations marked the rollout after years of design and manufacturing work to produce a 21st century spacecraft to transport astronauts to and from space.

ULA's motorized payload transporter, adapted to carry Starliner, moved at a top speed of 5 mph, heading from the former space shuttle hangar eastward to the beach and then southward to Space Launch Complex-41.

The KAMAG deck also held the In-Transport Payload Air Conditioning (ITPAC) to provide environmental controls to the spacecraft during the move.

Approaching the VIF, the KAMAG maneuvered up to the 30-story-tall building's doorway and parked. A four-point lifting sling, called the Handling Fixture Hoist Tool (HFHT), was connected to the Starliner for the overhead crane to carefully raise the capsule onto the Atlas V waiting inside the VIF aboard its Mobile Launch Platform (MLP).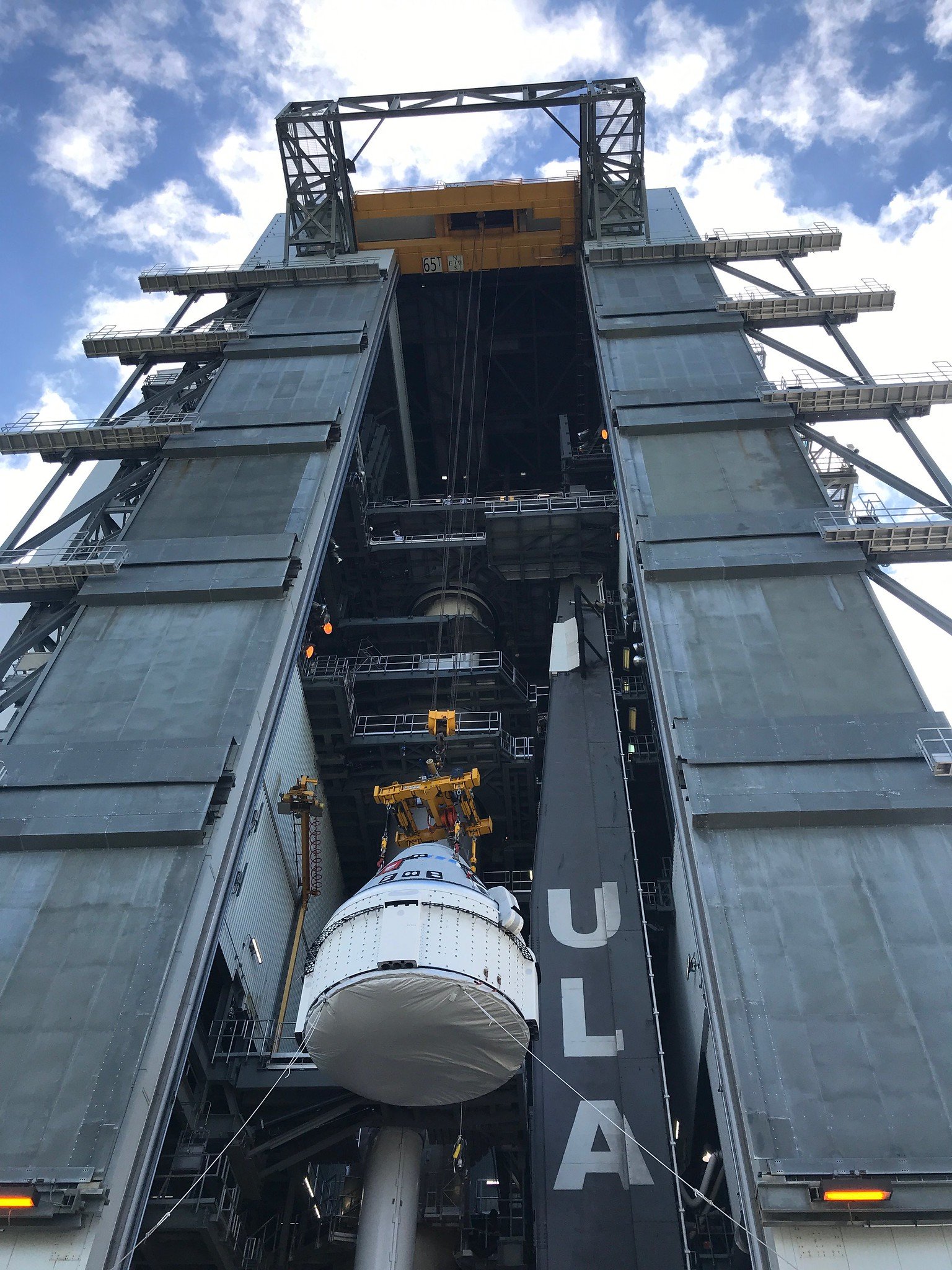 Starliner was positioned for mating to the Launch Vehicle Adapter (LVA) that serves as the spacecraft's cradle atop the rocket during ascent. The LVA also features the aeroskirt structure that smooths the air over the combined payload and Atlas V for aerodynamic stability.

Accommodations for Starliner in the VIF include a Class 100,000 clean enclosure to enter the capsule's crew module through the hatchway, access stands for technicians to detach the lift sling and complete preflight work to the craft's exterior, power and data transmission umbilicals, plus purge and cooling lines.

The joining of rocket and payload is a major milestone before any launch, and today's event underscores that OFT is a key step closer to launch.

Next up is the Integrated Systems Test, a tip-to-tail electrical check of the 172-foot-tall Atlas V and Starliner stack to verify all elements are communicating properly.

That will clear the way for IDOLT, or Integrated Day-of-Launch Test, to rehearse all aspects of the Atlas V countdown.