A special voyage of RocketShip is underway from the factory to the Cape Canaveral launch site carrying hardware of all three United Launch Alliance (ULA) rocket families -- Atlas, Delta and Vulcan Centaur -- for the first time in a single journey.

The stages departed the manufacturing facility in Decatur, Alabama, where highly skilled aerospace technicians built and tested them. The rockets were loaded on the cargo-delivery vessel yesterday and RocketShip set sail this afternoon for Port Canaveral, Florida.

The 2,000-mile trek will traverse the Tennessee and Ohio Rivers to intercept the Mississippi River over the next few days. Emerging into the Gulf of Mexico, the round-the-clock trip will cruise to Florida's east-central coast for its anticipated arrival next week.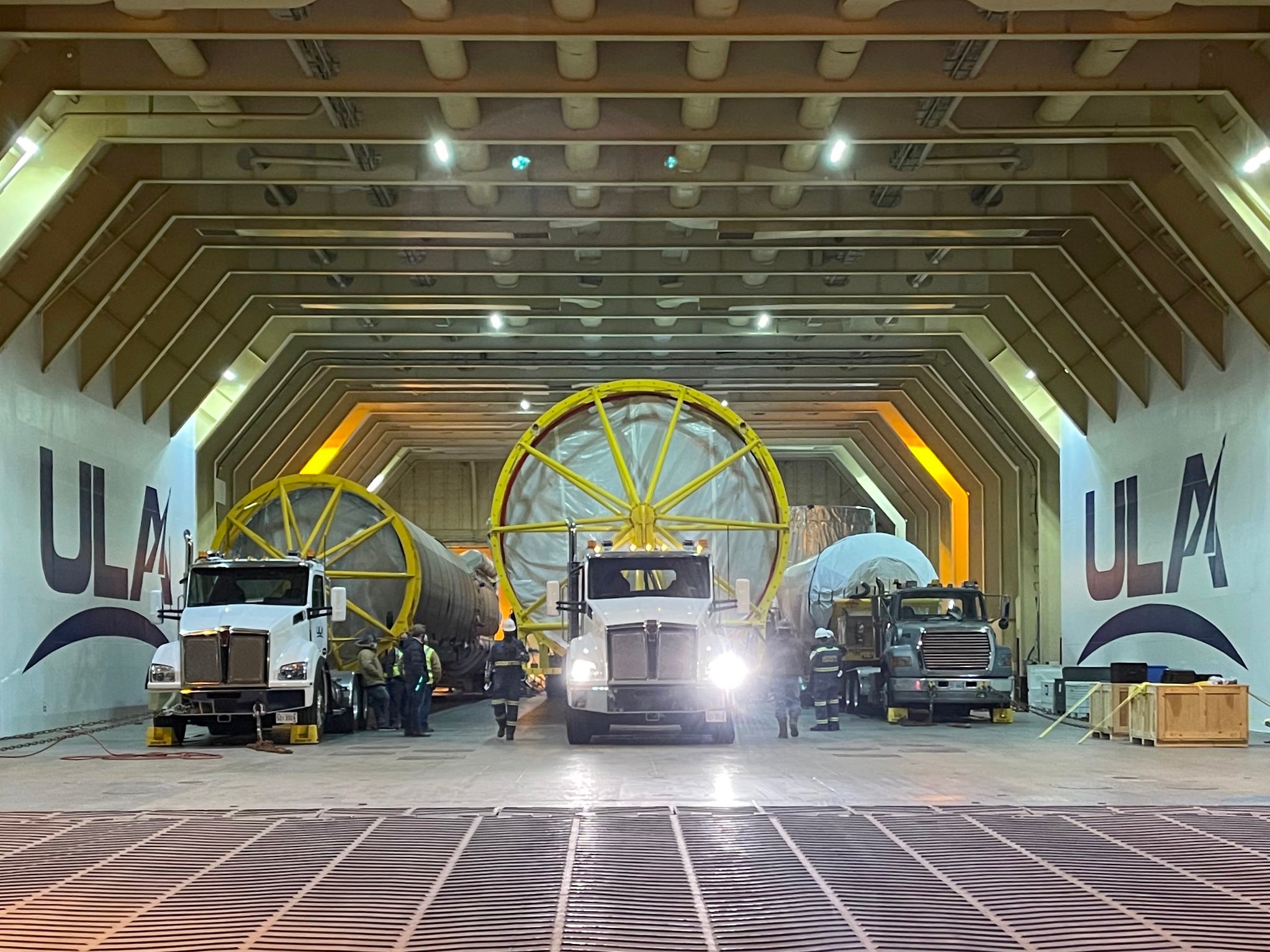 RocketShip is hauling the Atlas V first stage and Centaur upper stage slated to launch the Space Test Program-3 (STP-3) mission for the U.S. Space Force's Space and Missile Systems Center, the Delta Cryogenic Second Stage (DCSS) for an upcoming Delta IV Heavy national security mission and a Vulcan Centaur core stage that will be used for pathfinder activities at the launch pad this spring.

STP-3 will launch the STPSat-6 satellite and a propulsive secondary payload adapter carrying additional small science and technology missions. STPSat-6 hosts the National Nuclear Security Administration's Space and Atmospheric Burst Reporting System-3 (SABRS-3) package and NASA's Laser Communications Relay Demonstration (LCRD) experiment.

The DCSS is headed to Cape Canaveral to undergo preliminary testing and check out before entering its launch campaign.

The Vulcan Centaur pathfinder is a flight stage currently outfitted with developmental engines. It will be used as a trailblazer, taking its position aboard the Vulcan Launch Platform and traveling to Space Launch Complex-41 for tanking exercises. Those tests will validate the pad systems, ground infrastructure and countdown procedures in advance of the inaugural Vulcan Centaur launch.


The pathfinder is not just a test article. It will be retrofitted with flightworthy engines and launch on a future Vulcan Centaur mission to space.

RocketShip is ULA's primary method for moving launch vehicles from the factory to either Cape Canaveral Space Force Station, Florida, or Vandenberg Air Force Base, California. It has been delivering Delta IV cores to both sites for nearly 20 years, started carrying Atlas V stages in 2011 and now begins serving the Vulcan Centaur program. Delta IV common booster cores and Vulcan Centaur stages are too large for air or road shipment, making RocketShip the only mode of transportation.

The 312-foot-long ship has ample room to accommodate all four stages on this voyage. The cargo hold is sized to fit an entire Delta IV Heavy — three common booster cores, a DCSS and payload fairing.

The custom-made, purpose-built RocketShip, designed to navigate both shallow waters of rivers and ocean travel, is a roll-on/roll-off cargo vessel with a crew of 16. It carries over 100,000 gallons of fuel and is powered by engines derived from a locomotive. Onboard features include a full living quarters, a kitchen and dining area, a fabrication shop below deck and even a helipad.