Hardware for three important missions to the nation arrived at Cape Canaveral this week from the United Launch Alliance (ULA) rocket factory aboard the R/S RocketShip for upcoming Atlas V and Delta IV Heavy launches.

The ship departed the dock in Decatur, Alabama, on Feb. 14 for the week-long transit to the launch site. Arrival at the Port Canaveral wharf occurred on Feb. 23 and offloading was completed by Feb. 24.

This voyage of RocketShip delivered the Atlas V first stage and Centaur upper stage designated to launch the sixth Space Base Infrared Systems (SBIRS) GEO missile warning satellite for the U.S. Space Force, the Launch Vehicle Adapter (LVA) for the Atlas V launch of the Crew Flight Test (CFT) of Boeing's CST-100 Starliner to the International Space Station, and the starboard common booster core (CBC-S) and Delta Cryogenic Second Stage (DCSS) for a Delta IV Heavy launch in service to the National Reconnaissance Office (NRO).

All of the flight hardware was transported within the payload bay of the uniquely configured roll-on/roll-off cargo ship. The elements were safely moved to ULA facilities on Cape Canaveral Space Force Station for pre-flight processing.

The Atlas V rocket for SBIRS GEO-6, known as AV-097, will deliver the Lockheed Martin-built satellite into a customized geosynchronous transfer orbit later this year for Space Systems Command. Atlas V has successfully launched all previous SBIRS GEO spacecraft for the missile detection and warning system, and this upcoming launch will complete the current generation of satellites in the global, overhead surveillance constellation.

The LVA for the CFT mission serves as the interface to connect the Centaur upper stage with the Starliner spacecraft during launch. Both stages of the rocket were delivered to the launch site last year. CFT will be the first Starliner launch to carry astronauts to the space station as part of NASA's Commercial Crew Program.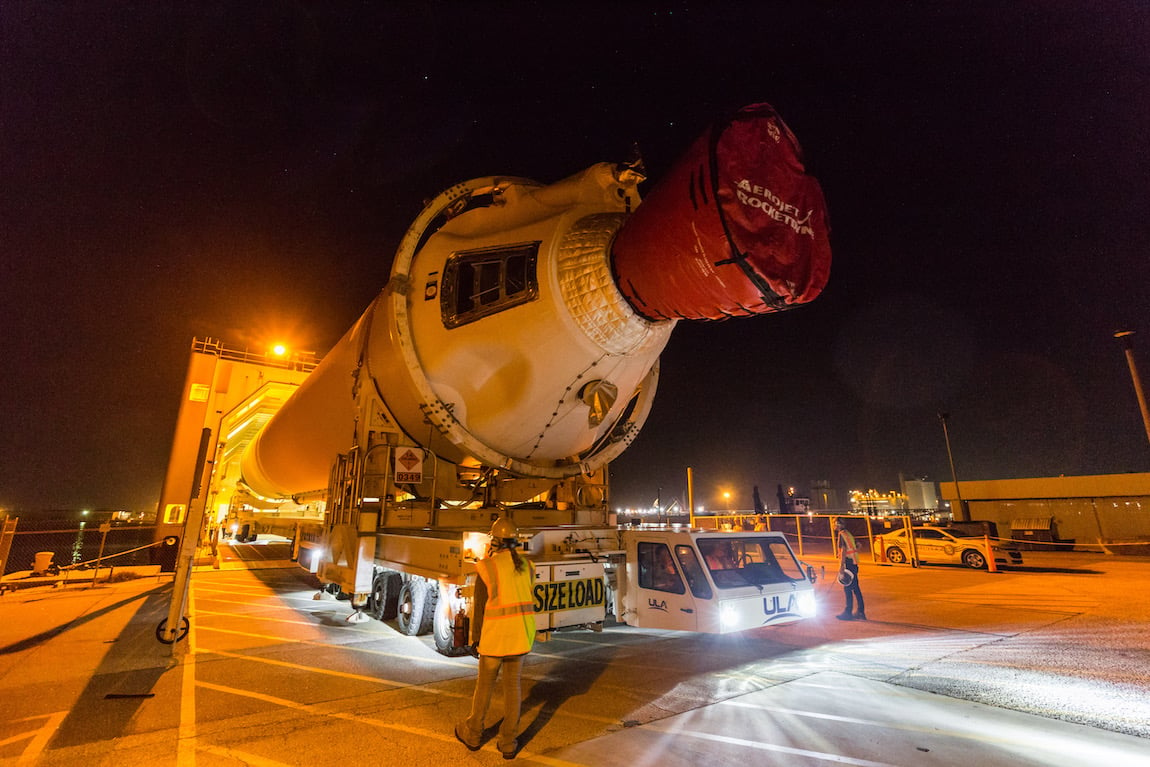 The Delta IV Heavy stages are part of a future launch for U.S. national security. The rocket will feature three CBCs and the upper stage to deploy a payload designed, built, and operated by the NRO.

The R/S RocketShip has been ferrying Delta IV stages to the Florida and California launch sites for more than 20 years. It also began transporting Atlas V rockets in 2011. The vessel carried its first Vulcan Centaur flight hardware, the Pathfinder Tanking Test (PTT) booster, last year.