A streamlined two-day process last week at Cape Canaveral assembled the Atlas V rocket to launch the United States Space Force-7 (USSF-7) mission.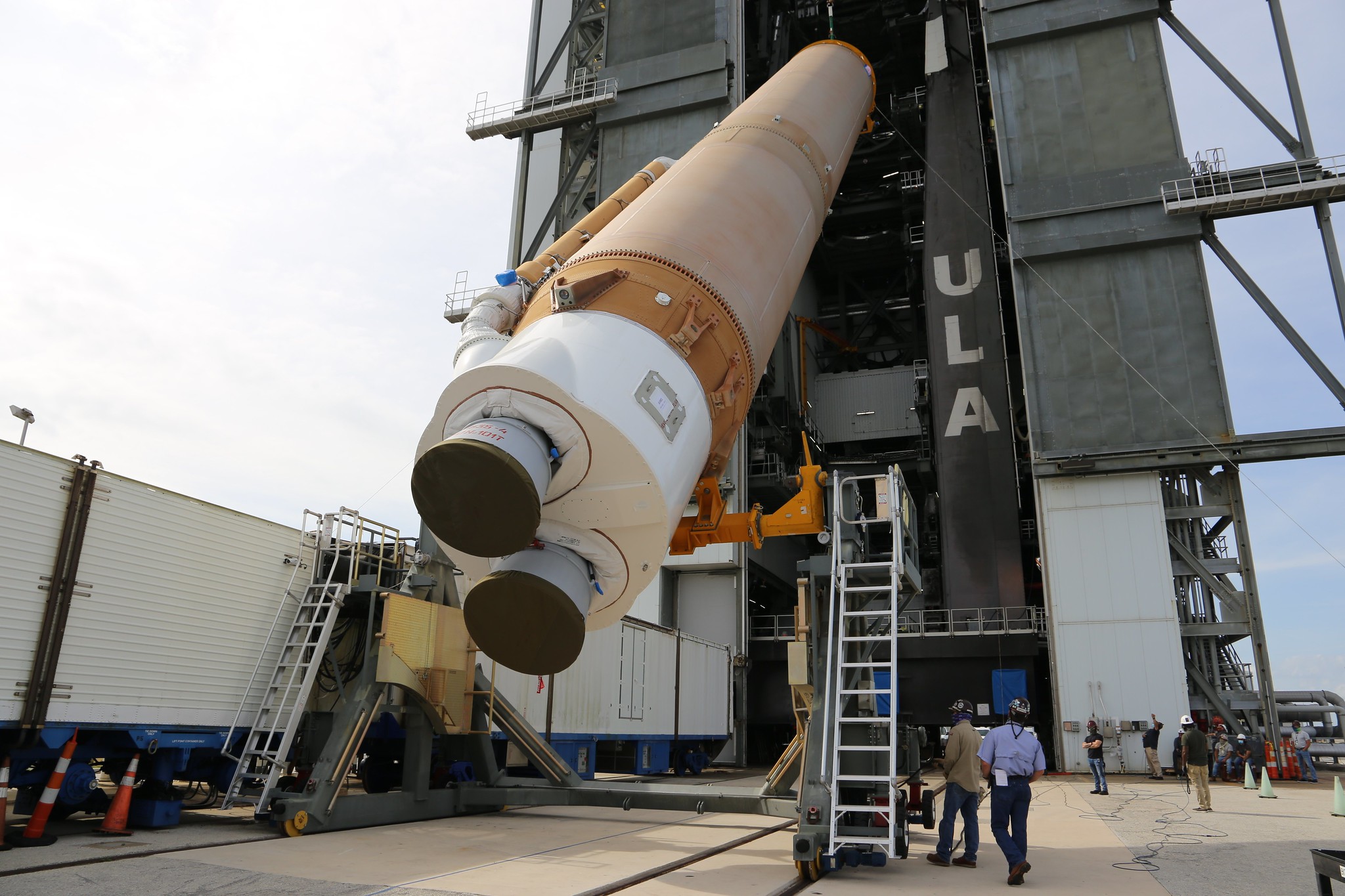 ULA will use an Atlas V 501 rocket to launch USSF-7 for the U.S. Space Force's Space and Missile Systems Center. The two-stage rocket has a five-meter diameter payload fairing, no solid-fuel boosters and a single RL10C-1 engine on the Centaur upper stage.

With 860,300 pounds of liftoff thrust, the 501-variant will supply the required performance to accomplish the USSF-7 mission. It will be the seventh launch of an Atlas V 501.

Activities for Launch Vehicle on Stand (LVOS) day began before dawn Thursday, April 23 when the Atlas V first stage was hauled by semi-truck from the Atlas Spaceflight Operations Center (ASOC) up the road the Vertical Integration Facility (VIF). The stage was parked snuggly at the building's open doorway for the overhead crane to lock on.

A mobile crane then attached to the aft-end of the rocket, allowing the entire 107-foot-long stage to be raised up and placed in the ground handling fixture that guided the Atlas V vertically.

Once standing upright, the rocket was released from the ground equipment to allow the VIF crane to hoist the booster onto the Mobile Launch Platform (MLP) for attachment to three support pedestals that hold the Atlas V until liftoff.

Then on Saturday, April 25, the interstage adapter, Centaur and lower half of the payload fairing that surrounds the upper stage -- a pre-assembled structure known as OVI, or Off-site Vertical Integration -- was delivered by trailer to the VIF.

In the early years of Atlas V operations, each piece was added one-by-one to the rocket in the VIF by way of multiple days of crane operations. ULA has since moved to the more-efficient process of connecting those pieces together in a separate facility and bringing the finished element to the VIF for one crane lift.

The OVI was lifted into the VIF where technicians awaited at the top of the first stage to bolt the two pieces of flight hardware together.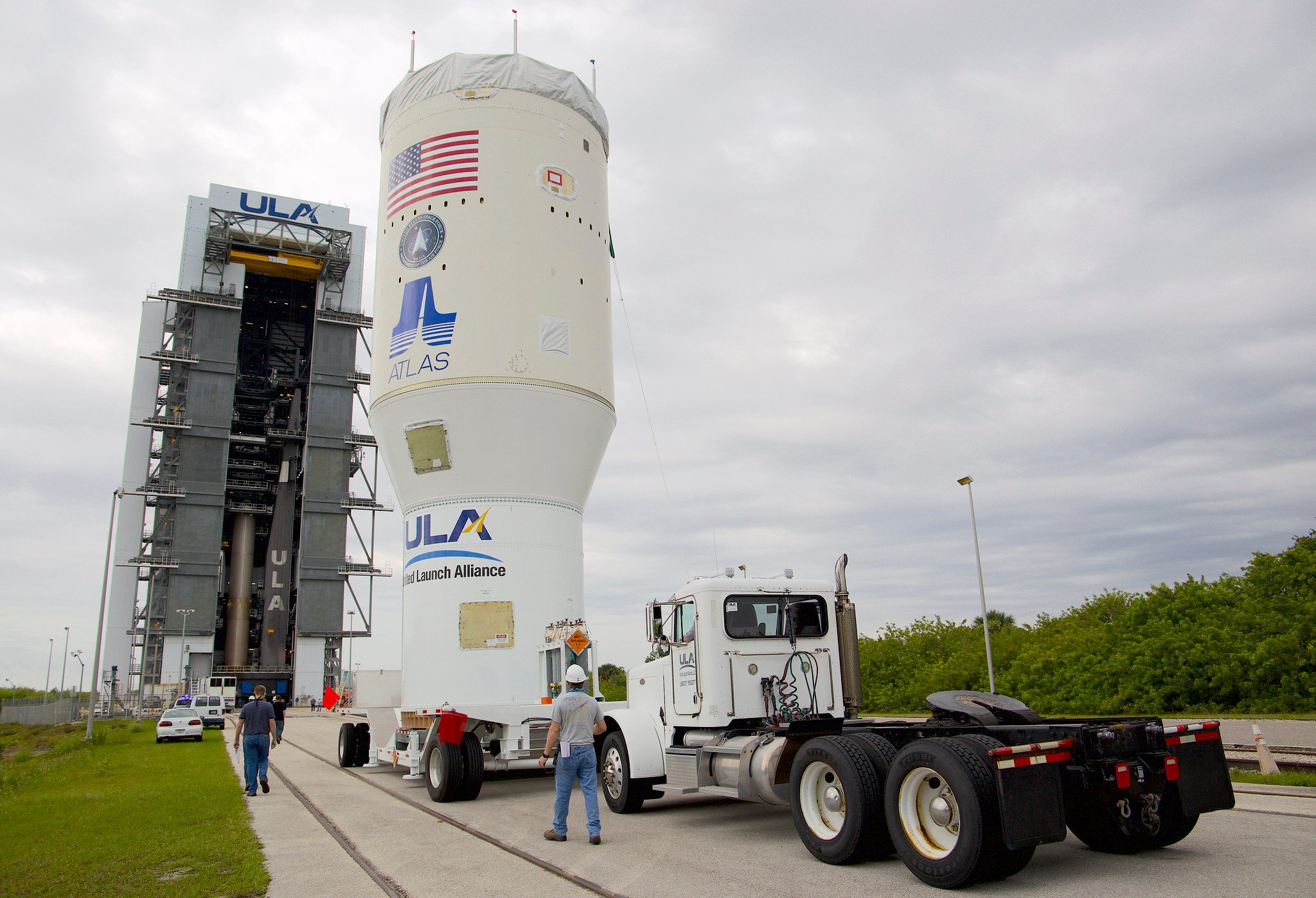 The OVI installation completes the basic build up of the USSF-7 launch vehicle. Upcoming work will be focused on thoroughly checking out the Atlas V rocket's systems, flight controls and avionics ahead of bringing the payload to the VIF for hoisting atop the rocket.

The MLP will transfer the 197-foot-tall rocket to the Space Launch Complex-41 pad for the countdown, fueling and liftoff next month.

USSF-7 is the second dedicated Space Force mission following the successful Atlas V launch of the Advanced Extremely High Frequency-6 (AEHF-6) secure communications satellite on March 26.

This will also be ULA's 139th flight since the company was formed. Nearly two-thirds of those missions have delivered critical U.S. national security payloads into space, all successfully.