United Launch Alliance engineers and technicians recently completed a successful pathfinder exercise to assess procedures and operations in Cape Canaveral, Florida, in preparation for the first Vulcan Centaur launch in 2021.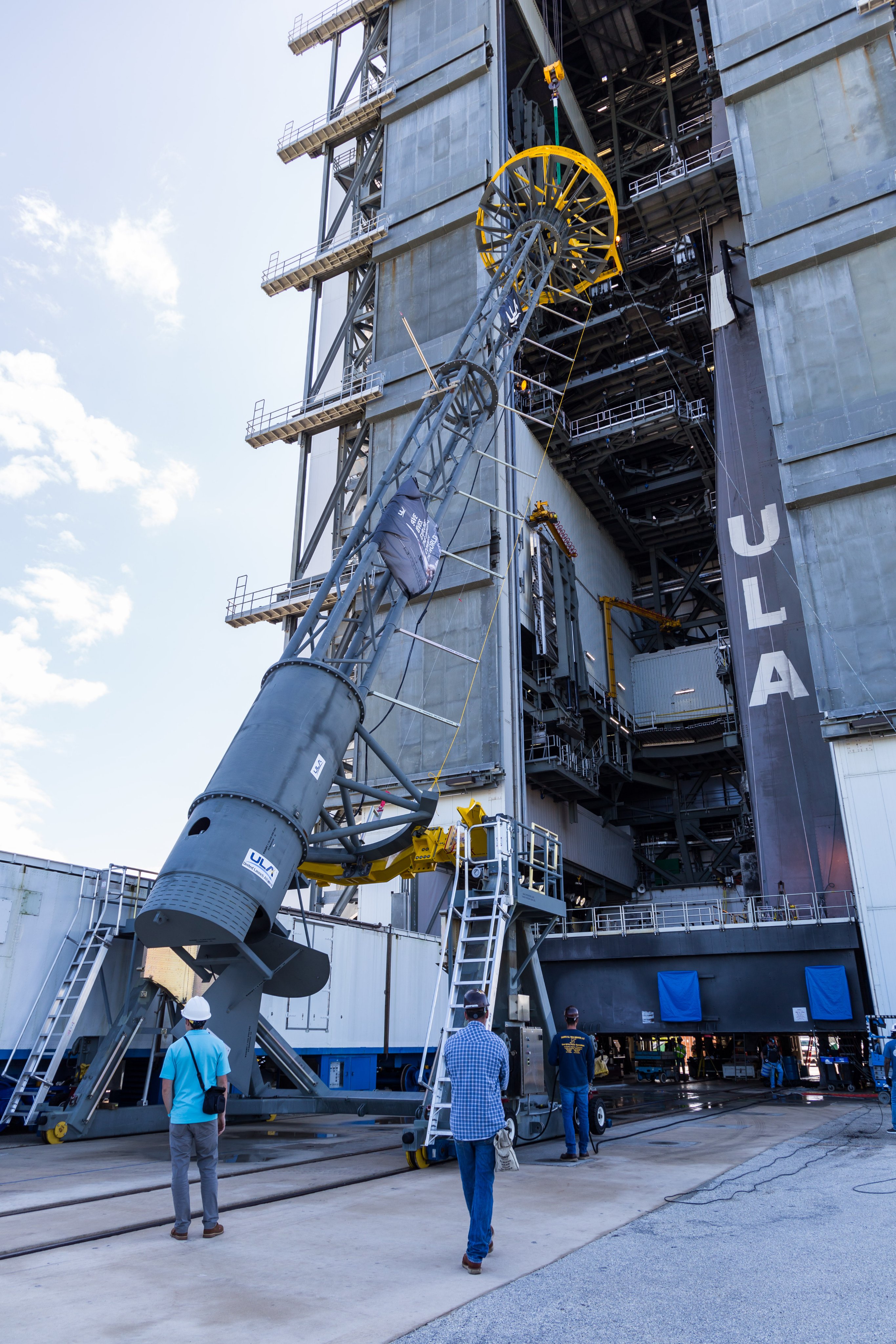 The pathfinder used a mass simulator built specifically to mimic the mass of Vulcan Centaur's core stage, as well as an outer diameter of 17.7 feet. The simulator was transported from the Port Canaveral wharf, where the R/S RocketShip will deliver Vulcan Centaur rockets, to ULA facilities for processing.

The highlight of the rehearsal was hoisting the simulator at the Vertical Integration Facility (VIF) to verify the tools and techniques that will be employed next year for the next-generation rocket's maiden launch campaign.

This valuable pathfinder exercise proved that all of the new ground support equipment and modifications to the VIF can support both the Atlas V and much larger Vulcan Centaur. The two distinctly different rocket families will share the assembly building and Space Launch Complex-41 (SLC-41) for the next several years as Atlas operations wind down and Vulcan Centaur launches ramp up. The modifications made to the VIF created a flexible facility that can be quickly reconfigured to support either Vulcan Centaur or Atlas V.

SLC-41 will be the first launch pad in the world to serve two entirely separate rocket families at the same time. The differences between Atlas and Vulcan Centaur include their size, the types of fuel used and the main engines that power them skyward. The Atlas V first stage is 12.5 feet diameter, uses a highly refined kerosene, called RP-1, and an RD-180 engine. Vulcan Centaur is 17.7 feet wide, will be powered by liquefied natural gas propellant, and use two BE-4 main engines.

Each rocket family will have its own dedicated Mobile Launch Platform (MLP). Vulcan Centaur's MLP is being outfitted with electrical and fluid lines at the nearby Spaceflight Processing Operations Center (SPOC), which is connected to the VIF and SLC-41 by rail.

The first Vulcan Centaur rocket that will perform its inaugural flight is already under construction at ULA's manufacturing factory in Decatur, Alabama.