The Atlas V rocket carrying the Landsat 9 observatory is dedicated to the memory of Thomas M. Heter II, an icon in the U.S. space launch industry and father of ULA's launch director for the mission.

Tom began his 45-year career at General Dynamics in Abilene, Tex., before relocating to Vandenberg Space Force Base, Calif., in 1964 as a flight test engineer. He worked every aspect of the launch business before retiring in 2006 as Lockheed Martin's director of Vandenberg launch operations, having supported more than 200 Atlas, Titan and Athena launches.

His son, Tom Heter III, is the technical authority to declare the Atlas V rocket is ready to launch Landsat 9, receiving inputs from engineering specialists, the launch team and NASA customer before giving the final clearance to perform the mission.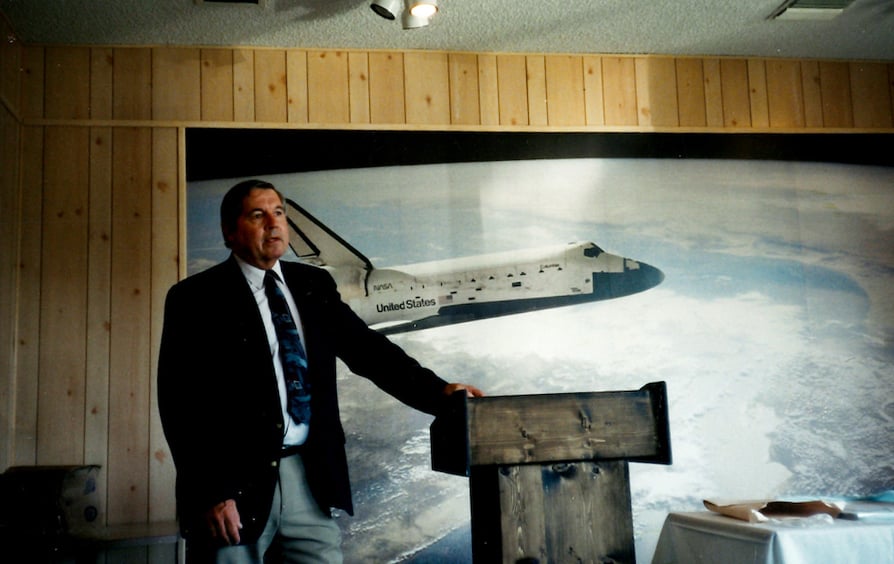 Despite father and son both launching rockets, they never worked together on the same programs. Son Tom was Boeing and father Tom was Lockheed Martin, and his retirement came a few months before ULA was formed to merge Lockheed Martin's Atlas and Boeing's Delta rocket systems.
"My dad was a launch director back in the day when he and I were competitors, so we did not have a chance to sit on console together," Heter III says.

He was raised on the Central Coast of California and began his career in June 1987 as a technician working at Vandenberg to prepare what was then envisioned as the final Delta rocket flight from Space Launch Complex-2. But what was supposed to be an 18-month assignment blossomed into 31 more years of launches from that historic pad, and Heter was there all the way to the end as the ULA launch director for the concluding mission in September 2018.

"It was an honor and privilege to sit in the launch director position for the final Delta II mission -- NASA's ICESat-2," he said.

He began training in 2015 to become a certified ULA launch director and ascended to that role for the first time on a commercial Atlas V mission in November 2016 from Vandenberg. Landsat 9 will be Heter's 11th mission as launch director. Most recently, he served in this position for the Delta IV Heavy launch in April from Vandenberg.

"It is knowing that you represent the hard work and dedication of all the ULA employees and suppliers that have contributed to the successful deployment of an important on-orbit asset for our customer," he said.
Just like his father, who said at his final launch in 2005: "We're in the business of protecting the good ol' USA. Yeah, we don't wear the blue uniform but we're just as dedicated and just as proud. I don't know if other people that are not in the business can really feel that pride but it certainly runs rampant out here."

Tom Heter II passed away on Feb. 12, 2019 at age 80.

"Tom was a devoted family man, a great leader, a true patriot and a highly respected member of the aerospace industry. He was also dedicated to serve in the local communities by providing volunteer and charitable support. Through his hard work and dedication, Tom helped shape and lay the groundwork for the space lift operations as we know them today," the mission dedication reads.

Members of the Heter family recently toured the launch pad and saw the special memorial decal placed on the Atlas V. They also will attend the Landsat 9 launch.