"Go Delta!" and "Go NROL-82!" reverberated through the launch control room yesterday at Vandenberg Air Force Base, California, as a Wet Dress Rehearsal (WDR) reached the final seconds of a practice countdown and fueling exercise.

The Delta IV Heavy rocket that will perform the NROL-82 mission for the National Reconnaissance Office (NRO) successfully ran through its countdown paces in the critical pre-flight test.

Known as a WDR, the day fully demonstrated the intricate day-of-launch countdown activities for the national security mission coming up later this spring.

Operations began by rolling back the Mobile Service Tower at Space Launch Complex-6, then configuring the site and preparing for fueling.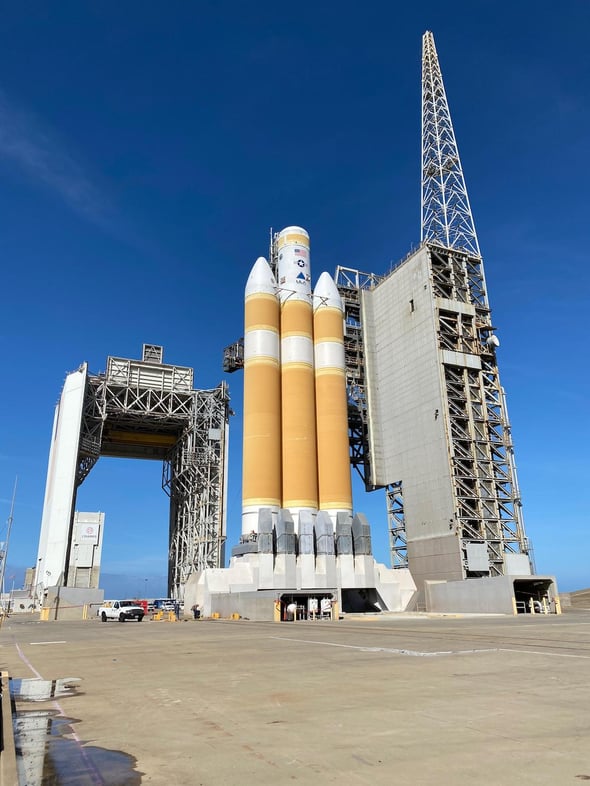 ULA Launch Conductor Scott Barney and his team of console operators orchestrated the countdown from the Remote Launch Control Center (RLCC) located about 11 miles north of the pad.

Coming out of the planned, built-in hold at T-minus 4 hours, 15 minutes, the "go" was given to fuel all eight cryogenic tanks aboard the rocket -- four liquid hydrogen and four liquid oxygen tanks in the three common booster cores (CBCs) and the Delta Cryogenic Second Stage (DCSS). The WDR fuels the rocket to check systems both on the launch vehicle and in ground support equipment.

The final hold at T-minus 4 minutes allowed engineers to assess the status of rocket and pad systems. ULA Launch Director Tom Heter III then authorized the launch team to enter terminal count. That final phase of the countdown progressed smoothly to the pre-planned cutoff just prior to ignition.

The rocket was safed and cryogenic tanks drained to conclude the test last night. WDRs are milestones meant to mitigate any issues before the actual launch day arrives.

Ground crews will complete the post-WDR securing within a few days. The next planned milestone in the launch campaign is hoisting the payload atop the Delta IV Heavy.

Launch remains targeted for this spring.