ULA's next Delta IV Heavy rocket now stands atop its West Coast launch pad at Vandenberg Air Force Base in California for the upcoming NROL-82 mission in service to the National Reconnaissance Office (NRO).

NROL-82 extends a partnership between the NRO and ULA that began with our very first launch in 2006 and now totals 30 consecutive successes.

The triple-core Delta IV Heavy is the only rocket in the world today that possesses all of the necessary attributes to meet the stringent requirements to perform this NROL-82 mission. It will be the NRO's ninth launch aboard ULA's heavy-performance rocket.

The U.S. security space asset being launched on NROL-82 is a payload designed, built and operated by the NRO that supports the agency's national security mission to provide intelligence data to the United States' senior policy makers, the Intelligence Community and Department of Defense.

Delta IV Heavy's three common booster cores (CBCs), Delta Cryogenic Second Stage (DCSS) and payload fairing were delivered to Vandenberg by the R/S RocketShip from the ULA factory in Decatur, Alabama. The ocean-going cargo vessel transported the rocket elements to California via the Panama Canal, with offloading occurring at the base harbor just south of the Space Launch Complex (SLC)-6 launch pad.

Testing and connection of the stages took place within the Horizontal Integration Facility (HIF) overlooking the pad. The port and starboard boosters were attached to the center core, then the DCSS was joined to the interstage on the forward end of the center booster.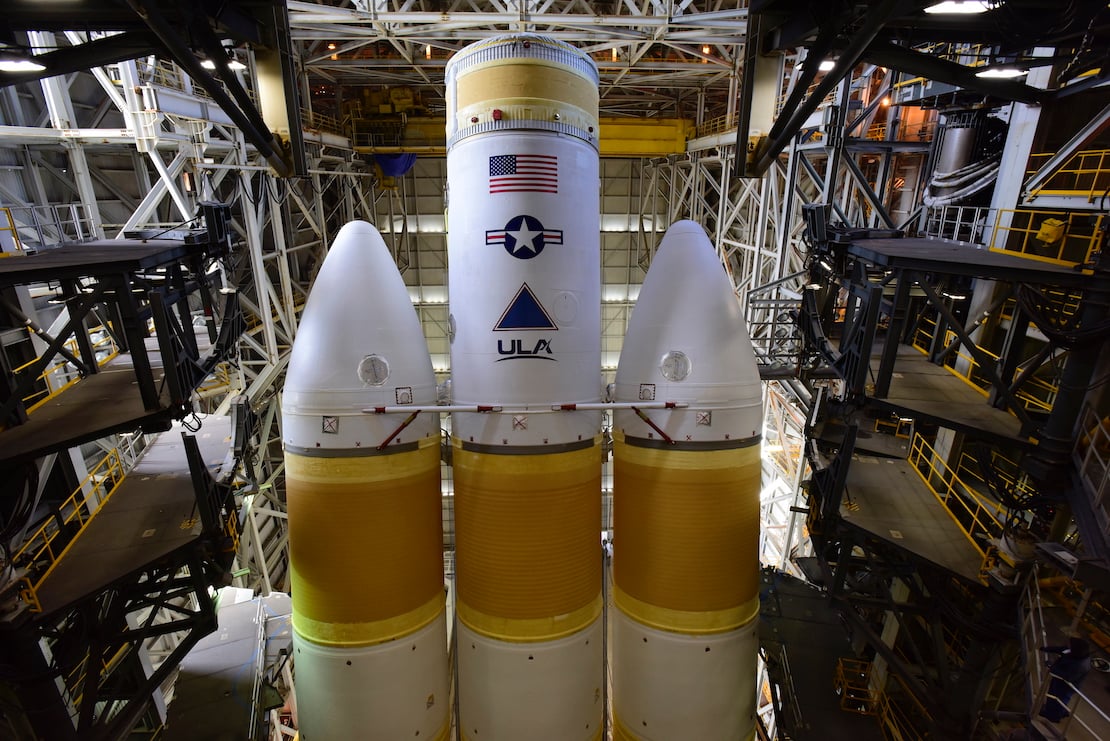 Also completed in the HIF, the Launch Mate Unit (LMU) was fastened to the three CBCs to serve as the structural base of the rocket when it stands atop on the pad's launch table. The LMU contains the 12 holddown bolts that fire to release the 1.6-million-pound rocket at liftoff.

The 170-foot-long rocket emerged from the HIF on Monday, Feb. 15, riding horizontally aboard a 36-wheel, diesel-powered transporter down the roadway to the launch pad.

Enclosed within the Mobile Assembly Shelter, the pad is shielded from winds and weather during pre-flight processing operations to give a comfortable environment for technicians working on the rocket and protect critical flight hardware during pad processing.

The Fixed Pad Erector raised the vehicle upright at the pad on Tuesday, Feb. 16 to complete the Launch Vehicle on Stand (LVOS) milestone for Delta IV Heavy to conduct the NROL-82.

A Wet Dress Rehearsal (WDR) to exercise the rocket and ground systems in a practice countdown setting will be conducted this spring. Vertically attaching the encapsulated payload to finish assembly of the 23-story rocket follows the WDR in the launch campaign.

Launch is currently anticipated in the second quarter of 2021.