A racecar-driving rocket scientist is directing the ULA operations team that will launch the two test flights of Boeing's CST-100 Starliner spacecraft atop Atlas V rockets.

From the famed Indianapolis Motor Speedway to the Launch Control Center, Bill Cullen will be at the wheel as ULA's launch director for the uncrewed Orbital Flight Test (OFT) this week and the next year's Crew Flight Test (CFT) to the International Space Station.

"Coming out of school, I decided to work for McDonnel Douglas mainly because of human spaceflight, working on the Shuttle Payload Assist Module (PAM). But the narrowing of the shuttle mission focus and the growth of the ELV market sent me in a new direction, and I am looking forward to coming full circle to human spaceflight again," Cullen said.
Born in a suburb of Chicago, Cullen earned a degree in electrical engineering from the University of Illinois. His first job was working on PAM, the rocket stage that transferred satellites from a space shuttle's low-Earth orbit to higher orbits.

He then went to work on Delta rocket missions, helping to write parts of the proposal that led to creation of the Delta II rocket to launch the Global Positioning System for the U.S. Air Force.

"After we won the contract, I designed electrical ground support equipment to support the larger, upgraded Delta II. Next, we upgraded the avionics suite and I led the corresponding launch system upgrade design where we evolved from switches and panel meters to a computer controlled launch control system," Cullen recalls.

"My wife and I had our first child shortly before fielding that system, making frequent and long-duration travel difficult, so I agreed to move to Florida for one year. That was 24 years ago.

"I was selected as the Delta II launch ops chief engineer in 1997 and then the Delta IV site manager and launch director in 2005. In 2013, I moved to Atlas as the site manager and launch director, and in 2017 became the launch IPT leader for Vulcan."

Cullen will take his seat in the mission director's booth overlooking launch control nearly seven hours before liftoff time of the Atlas V rocket and Starliner. He will remain at helm, authorizing the start of fueling operations, monitoring all aspects of the countdown and then pronouncing "the launch vehicle is ready to launch" about six minutes before launch.

"The launch director's role is to lead the integrated launch vehicle, range and spacecraft teams through the prelaunch activities ensuring team and hardware safety, overseeing resolution of anomalies and when everything is in place to give the launch conductor permission to launch," said Cullen.

"The OFT Integrated Day-of-Launch Test, or IDOLT, on Dec. 6 was the first time we have had people at the pad when the vehicle is fully tanked with propellants. We have completed extensive assessments and preparations to ensure the teams safety. The biggest difference from prior ULA launches is that OFT is the precursor and test for Atlas's return to human launch and with that comes the crew and pad teams' safety."

Having driven on world-renowned race tracks like Indianapolis, Laguna Seca, Sears Point, Daytona and Sebring, Cullen says there are similarities between auto racing and space flight.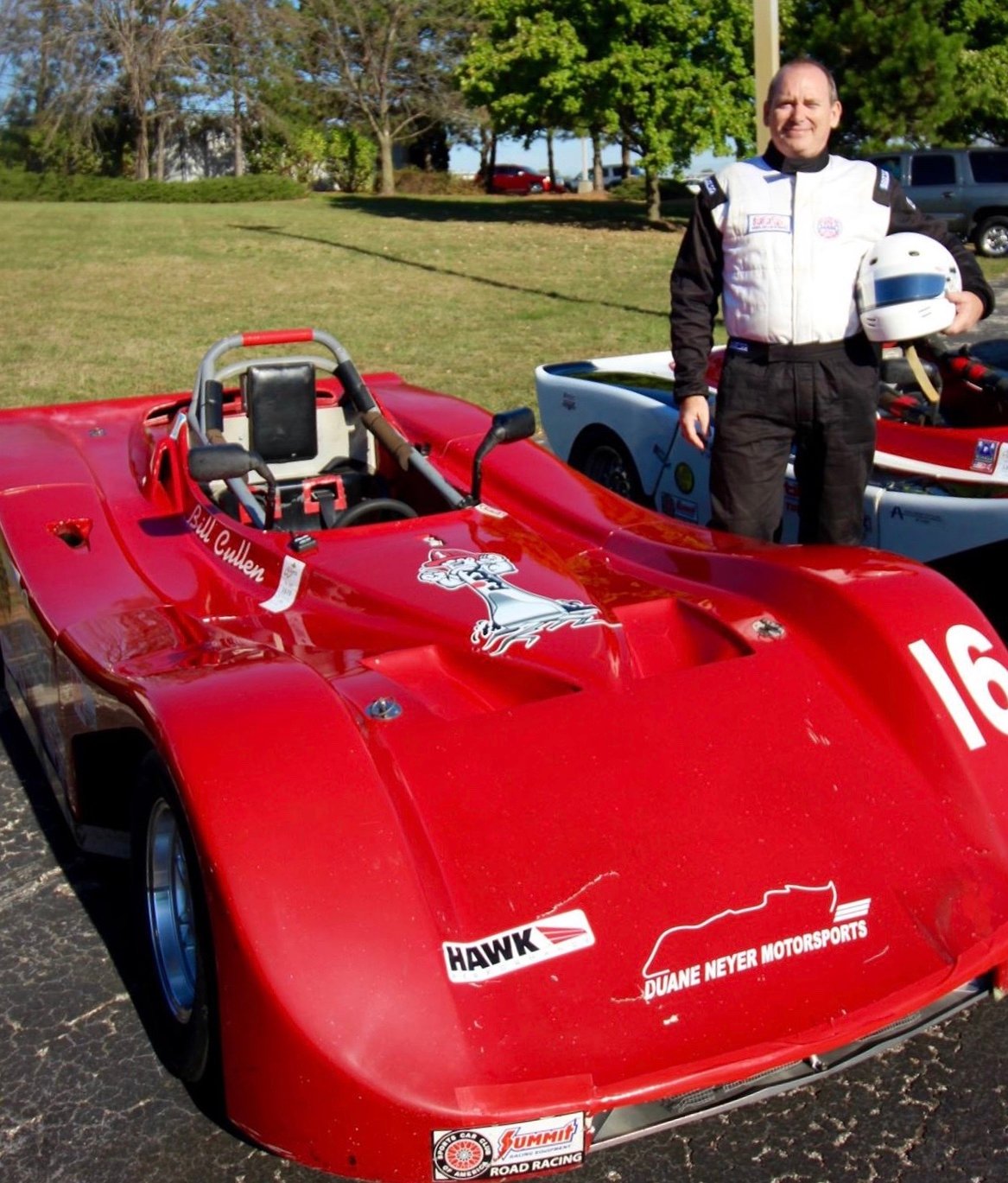 "Preparation is key. I am at best an okay driver and I do well because my car is very well prepared. Two key parts to that preparation are enlisting help from and listening to experts and attention to detail. Listening to and learning from the people who are close to the hardware points me to where I should be focusing, at the track or the launch site. Likewise, attention to every detail is key to both a successful mission and racing," he said.

Cullen started racing in 1989 as a hobby and has earned a few victories along the way. "One year, I won enough contingency prize money I almost broke even!"

"I have owned the same race car since 1989. The car is called a Spec Racer and races under the Sports Club of America, or SCCA. As a spec class all of the cars are identical having the same chassis, body, engine and tires. There are over 900 of these cars across the country," he said.

In 2017, SCCA's championship race was held on road course at the Indianapolis Motor Speedway. "Once this was announced, I knew I wanted to go."

"It was awe inspiring, hallowed ground for race fans. Flying into Indianapolis, I saw cars on track for test day 1 and felt like I was late to the party. After getting my credentials, I drove into the infield and saw the pagoda, timing tower and bleachers I had an ear to ear grin. I still have video from be first lap over the Yard of Bricks," he said.

"It was the first time I qualified to go to the Runoffs and between spending a full week at the track and being at Indy, it was quite a good time!"