The Atlas V rocket launching the Space Force's USSF-12 mission features a special In-Flight Power System (IFPS) to top off the Wide Field of View (WFOV) payload's batteries during the long ascent into orbit, and United Launch Alliance (ULA) electrical integration lead Jordan Gleba has worked to ensure it functions as designed.
Scheduled to launch June 30, the Atlas V 541 rocket will carry the WFOV Testbed satellite directly to geosynchronous orbit approximately 22,000 miles (36,000 km) above the equator. It will take nearly six hours to reach the destination.
The ULA-developed IFPS, which debuted on the Space Test Program (STP)-3 launch last December, is a unique accommodation to give the spacecraft the best opportunity to begin a successful mission.
"Availability of in-flight power on our Atlas V is the result of a long and challenging development and qualification process headed up by Avionics," Gleba said.
"Our customers typically charge their spacecraft batteries on the ground through umbilical wiring but launch vehicle in-flight power allows us to continue that support through ascent up to spacecraft separation. This allows our customers to run heaters or other electrical components throughout flight without depleting their batteries, placing the payload into orbit with a healthy battery charge."
About 15 minutes before liftoff, WFOV will switch from ground-fed power to its internal batteries for launch. Without the IFPS, the satellite would rely upon that battery charge until its power-generating solar arrays are unfurled sometime after separating from the launch vehicle; however, IFPS will keep the batteries fully charged throughout the ride to geosynchronous orbit to deploy the satellite in a positive power budget.
USSF-12 is only the second time in ULA's 150 missions to supply precisely regulated power to a payload during flight. IFPS provides a regulated voltage to the spacecraft during the six-hour climb to orbit and guarantees WFOV will have a specific state of charge at separation.
IFPS is add-on hardware that operates independently from the Centaur upper stage's main vehicle power system.
For the USSF-12 launch, Gleba managed the requirements, design, and testing of the electrical interfaces between the launch vehicle and space payload. He will also be on site during operations supporting final check-outs of the IFPS prior to launch.
"Jordan picked up the mission late in the integration flow. His main focus was on the mission unique IFPS, which included completing the development and qualification of the system with ULA's supplier, coordinating final requirements with the mission team, and executing an integrated test with the spacecraft team at their facility," said Travis Ramp, the ULA's USSF-12 mission manager.
"I inherited this mission in the middle of the integration. It was a real challenge to onboard the mission and get up to speed on the In-Flight Power System in the middle of the integration process. I was very grateful for the help and experience of our Avionics group and customer community, both at the Aerospace Corp. and at Millennium Space Systems that built WFOV," Gleba said.
"USSF-12 is a particularly challenging mission, due to the presence of multiple payloads and separation systems, and also the usage of In-Flight Power by the WFOV payload," Gleba said.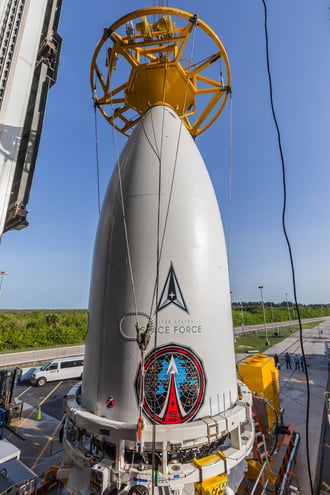 WFOV is the upper spacecraft in the dual-manifest stack atop the Atlas V for USSF-12. Riding beneath is the USSF-12 Ring spacecraft, an STP payload for the Department of Defense that will be released a few minutes after WFOV.
"I consider it an incredible privilege to be working in launch. In customer-facing positions, we can become familiar with spacecraft systems and operations, and speak with our customers about their mission objectives. It's inspiring to be an instrumental part of space exploration and scientific advancement," Gleba said.
WFOV will test new technologies for the Space Force's Overhead Persistent Infrared (OPIR) program and reduce risks associated with the next generation of missile warning satellites for national security.
"Launch support is always a blast. Completing a spacecraft integration, which can last several years, with a successful spacecraft separation is one of the best feelings in the world," Gleba said.
Gleba joined ULA in 2018 after graduating an as electrical engineer from the University of Illinois at Chicago. He worked on the avionics team in Mission Integration until just recently accepting a position in the Electromagnetic Interference and Compatibility (EMI/EMC) group.
"In this position I'll continue to work some Mission Integration items with our payloads, but also pitch in on the development and qualification of launch vehicle components and sub-systems," Gleba said.
"In EMI/EMC, we consider that every electronic component involved in a launch emits some energy as it operates. Through testing and analysis, I will help confirm that the rocket, payload, and ground systems (including launch site radars, local radio transmitters, phones, etc.) all work together without any interference from one component to another. I'm looking forward to moving into that position on future missions."
Atlas V will launch USSF-12 on June 30 from Space Launch Complex-41 at Cape Canaveral Space Force Station in Florida.
ULA will provide comprehensive live updates on the Atlas V countdown and flight starting in our automatically refreshing blog. A webcast of the launch begins 20 minutes before liftoff.
Learn more about the Atlas V USSF-12 launch
See more photos in our USSF-12 album