The R/S RocketShip sailed into Port Canaveral today to deliver the Atlas V rocket that will launch the sixth and final Advanced Extremely High Frequency (AEHF) secure military communications satellite for the Space and Missile Systems Center.

The Atlas V, flying in its powerful 551 configuration with a full complement of five side-mounted solid rocket boosters, will carry AEHF-6 to an optimized geosynchronous transfer orbit that provides a fuel-efficient route to its final geostationary position 22,300 miles above Earth.

The rocket departed ULA's manufacturing facility in Decatur, Alabama, on Jan. 4 for the cruise to Florida's Space Coast. Arrival at the launch base occurred this morning.

Technicians at the wharf immediately went to work releasing the stages and transport vehicles from the RocketShip cargo bay and offloading the Atlas booster and Centaur upper stage.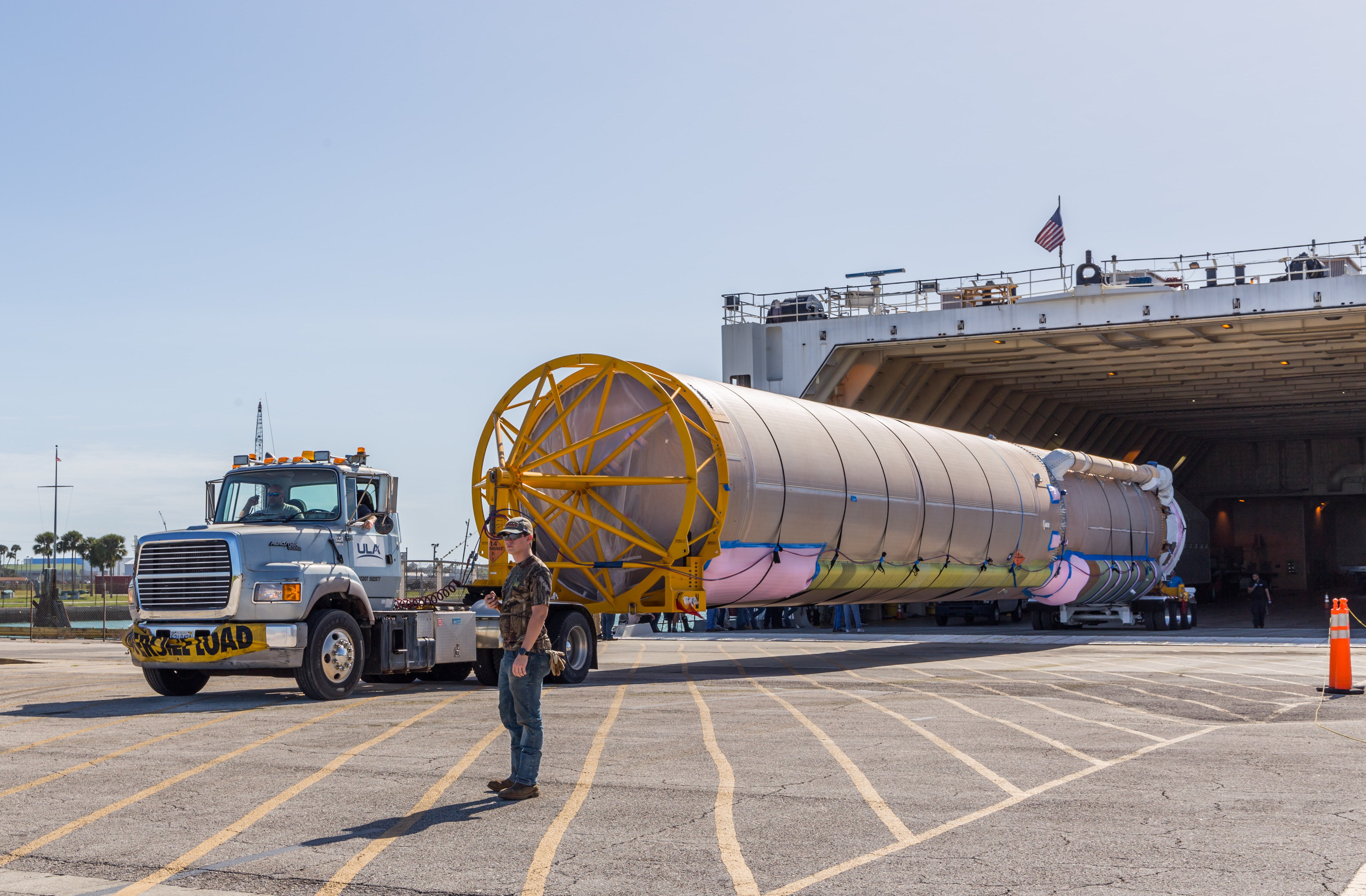 The booster was hauled to the Atlas Spaceflight Operations Center (ASOC) to undergo receiving checks and horizontal processing. It will head to the Vertical Integration Facility (VIF) for the start of pre-launch assembly once the Solar Orbiter launch is accomplished and the Mobile Launch Platform (MLP) is rolled back to the VIF next month.

The Centaur, after it emerged from RocketShip, was taken directly to the building where it will be raised vertically, attached to the interstage adapter and fitted with the lower base segments of the payload fairing and support ring. That assembled structure then will be ready for joining the rest of the rocket in pre-flight preparations at the VIF.

The AEHF-6 spacecraft arrived at the Cape just two days ahead of its rocket. The satellite was transported aboard a military cargo aircraft from the Lockheed Martin production facility in California on Saturday, Jan. 11. AEHF-6 will be checked out, fueled and encapsulated at the Astrotech payload processing complex in Titusville, Florida, before moving to the VIF for hoisting atop the Atlas V.

AEHF-6 is one of the most sophisticated communications satellites ever built. It will relay protected transmissions to strategic, nuclear and tactical forces, joining five other spacecraft in the series that have been launched exclusively by Atlas V rockets since 2010.