Monday's Atlas V rocket launch of the Landsat 9 spacecraft for NASA also carries a new platform to deploy rideshare payloads, a project that United Launch Alliance (ULA) engineer Elizabeth Sorrells has worked more than two years to successfully integrate into the mission.

Developed by the U.S. Space Force, the Expendable Launch Vehicle Secondary Payload Adapter (ESPA) Flight System, or EFS, is flying on this Atlas V rocket as a proof of concept demonstration to deliver small satellites and CubeSats into space. This and future EFS missions will maximize the value of launches by using all the available room on a rocket.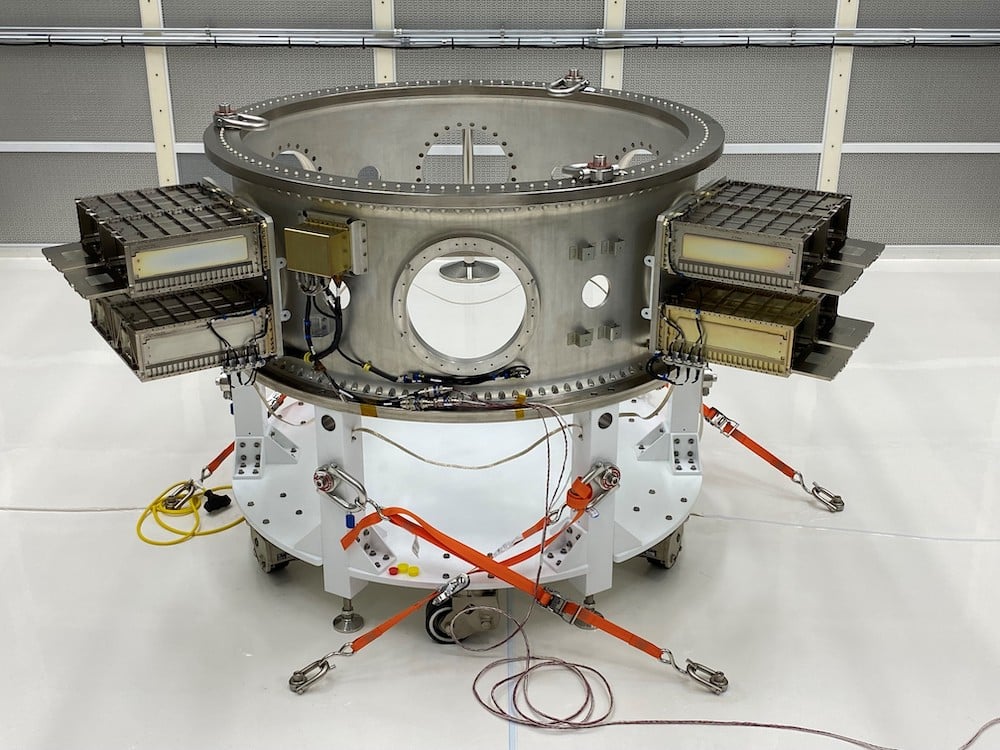 "Rideshare payloads and ESPA rings are becoming increasingly common, and the analyses and do-no-harm work for Landsat 9 EFS will be heavily leveraged for future similar projects," Sorrells said.

The non-deployable structure sits below the Landsat 9 observatory, the primary payload for this week's launch. It can support up to six satellite ports and CubeSat dispensers.

Sorrells, the avionics mission integration lead for Landsat 9 and L9 EFS, has been a key participant in getting the EFS fused into the launch ever since the Authorization to Proceed (ATP) milestone was passed.

"I worked with the rest of the team to establish in-flight requirements and interfaces in our Interface Control Document (ICD) and continued to iterate on those as interfaces matured. I designed the schematic for wire harnesses, established our testing roadmap, directed other avionics tasks to meet schedule milestones, planned and led Software Integration Lab (SIL) testing, and helped evaluate compatibility between systems, such as the unusual step of providing power for a customer box," Sorrells said.

"In addition to top-level design of the rocket/EFS interface, one of my primary responsibilities is representing the avionics team to our customer and being able to answer questions and resolve issues that arise during integration to ensure the best integrated solution."

This first flight of the EFS serves as a test for the system. Originally not intended to deploy any payloads, mission designers decided to carry four CubeSats as part of this flight demonstration that will be released into a near-polar orbit after Landsat 9 is separated from the Atlas V rocket.

The science and U.S. national security multi-manifest payloads are sponsored by the Defense Innovation Unit, Air Force Research Laboratory, Missile Defense Agency and NASA.

The NASA CubeSats include the Colorado Ultraviolet Transit Experiment (CUTE) from the University of Colorado at Boulder, which will measure how near-ultraviolet light from a host star changes when an exoplanet passes in front of it and through a planet's atmosphere. The Cusp Plasma Imaging Detector (CuPID) from Boston University will measure X-rays emitted when solar wind plasma collides with neutral atoms in Earth's atmosphere.

"What is cool about this project is that it has been a pathfinder for future missions to use excess lift capability to fly secondary payloads. Throughout the integration, we've been considering not only how decisions will impact this mission, but future missions as well," Sorrells said.

"The process has been extremely educational for both ULA and the customer and we're excited to be flying these four payloads."

Sorrells will be on console in ULA's Denver Operations Support Center (DOSC) during the countdown to support the launch team at Vandenberg Space Force Base in California.

"I have a console support position in the DOSC to monitor the spacecraft-specific circuits, both Landsat 9 and L9 EFS, and be on-hand to help troubleshoot any issues that arise over the net," Sorrells said.

"While it's exciting to work with rockets every day, my favorite part of the job is the ownership I have for the missions I work because I know that I have contributed tangibly to its success. I can't wait for "my" rocket to launch this week!"

Born on Yokosuka Naval Base in Japan, Sorrells' father served in both the Navy and Air Force. She attended the University of Alabama in Huntsville for a B.S. in Electrical Engineering and interned at five different places while working on the undergraduate degree "so that I would know what I wanted to do once I got my diploma."

Two of those internships were at ULA, her first working in Launch Operations during the summer of 2016. "I had the opportunity to be part of three launches in the airborne avionics group, which included leading small operations and taking ownership of continuous improvement activities," Sorrells said.

"Launch Operations was exciting because I got to work with the hardware, see actual spacecraft, and take a lot of ownership of procedures and processes. I supported both East Coast and West Coast launches and got to work on a launch from all five space launch complexes, including Delta II."

After graduation in 2018, Sorrells initially took a job in ULA Launch Ops as an electrical payload processing systems test engineer before later moving to Denver to join the avionics mission integration group working on the design and requirements side of the same hardware. She also interned with that group, in the summer of 2017.

"In my current role, I work on missions for a much longer duration from mission ATP through launch. I have been prime on NROL-82, Landsat 9 and L9 EFS, GOES-T, NROL-91, JPSS-2 and LOFTID, NROL-68, USSF-51, and multiple proposals and leading edge integration efforts. I'm also a member of ULA's Ascent Team for both the CST-100 Starliner and Artemis programs," Sorrells said.

Outside of work, Sorrells loves to travel and spending time outdoors backpacking, rock climbing, paddleboarding and snowboarding with her husband Daniel.