From a Delta IV factory engineer to Atlas V launch director and now managing work to ready the launch sites for Vulcan Centaur, United Launch Alliance's (ULA's) Eric Richards has a career rooted in shaping mission success.
Growing up in Decatur, Alabama, just minutes away from the site where ULA's sprawling rocket manufacturing facility now resides and graduating from the University of Alabama -- "Roll Tide" -- with bachelor's and master's degrees, Richards started in the factory in 2005 as an industrial engineer working on Delta IV composite structures.
"I was able to move around the factory in a number of different assignments, but probably had the most fun when I was Support Team Lead. I joined the ULA Launch Operations team as the Safety and Quality senior manager in 2016 and have spent the last two years as the Major Development Launch Operations IPT Leader," Richards said.
In his latest role, Richards has been integral in the modifications that transformed Space Launch Complex (SLC-41 at Cape Canaveral Space Force Station, Florida, into a dual-use pad that simultaneously supports the Atlas V and Vulcan Centaur manifests.
That work included adding the LNG fuel storage tanks at the pad for Vulcan's main stage, expanding the storage capacity for liquid oxygen and liquid hydrogen, and renovations at the Vertical Integration Facility to accommodate both rocket families despite significantly different sizes.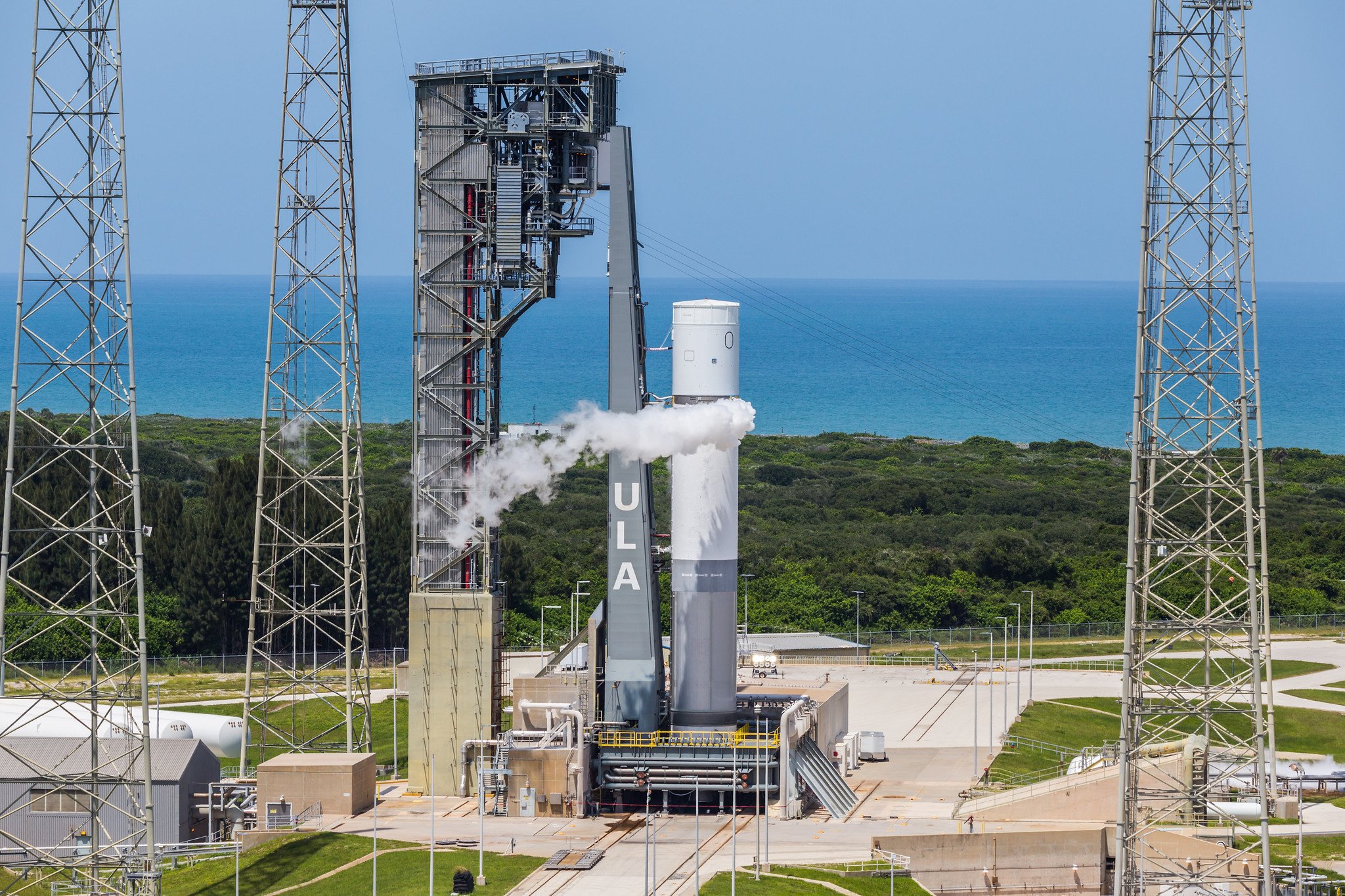 He also is playing a key role in the project to overhaul SLC-3 at Vandenberg Space Force Base, California, that will transition that pad to support Vulcan's West Coast launch capability, as well as being the project leader for the SLC-41 modifications supporting the Kuiper Vulcan program.
"As the program manager, my current responsibilities of cost, schedule and technical performance are focused on the SLC-41 modifications to support the Vulcan program. The next iteration is leading the Launch Operations' transformation efforts for Kuiper Vulcan. This includes numerous construction and ground system development projects," Richards said.
Earlier this year, Richards served as the ULA launch director for the United States Space Force (USSF)-8 mission that saw the Atlas V rocket successfully deliver two space situational awareness satellites directly into geosynchronous orbit.
He will serve again as the launch director for this week's Atlas V mission to deliver two commercial communications satellites into space for operator SES to beam digital TV to homes across America.
"As a young engineer in the factory, I certainly did not think about this path for my career. It is a lesson which is important for others when faced with challenges or life choices. Bet on yourself, be lucky enough to have a partner in life who is willing and able to take that journey with you, welcome creating a change for yourself versus expecting someone to do it for you - then GO!" Richards said.
"It is humbling for ULA to give me this opportunity. It is a continuation of trying to learn and adapt to different challenges as they present themselves. In my career, there is nothing like a launch – being part of a team working towards such a singular goal, trusting the person next to you to execute, them trusting you to do the same, seeing and feeling the launch, and delivering the spacecraft for our mission is second-to-none."
If you see Richards, he probably will have ear buds in and listing to Muse, Dave Matthews, Tom Petty or a Podcast.
He and his wife, Holly, have been married for 20 years, have two daughters, Ella and Scout, and enjoy family time going to Disney World and Universal Studios.
Asked for facts people should know about him, Richards quipped that he is not a big fan of socks, his video game skills are beginning to erode with age, and there is a six-foot elephant on his office wall "who has open arms to give you a hug and is always happy to see someone walk in."
The Atlas V launch of the SES 20 and SES 21 spacecraft is scheduled for Oct. 4 from Cape Canaveral's SLC-41 at 5:36 p.m. EDT (2136 UTC). The available launch window extends for 45 minutes.
ULA will provide comprehensive live updates on the Atlas V countdown and flight starting at 10 a.m. EDT (1400 UTC) in our automatically refreshing blog. A webcast of the launch begins 20 minutes before liftoff.
Learn more about the Atlas V SES-20/21 launch