A pathfinder first stage that will pave the way for Vulcan Centaur's inaugural launch has arrived at Cape Canaveral, Florida, from ULA's factory in Decatur, Alabama, to begin launch site testing of the next-generation rocket.
The Pathfinding Tanking Test (PTT) booster, a flight configuration Vulcan core fitted with a pair of BE-4 development engines, was produced using the advanced automation and tooling in Decatur that is designed for maximum efficiency and reliability.
After completing integration, testing, and checkout at the factory, the 17.7-foot-diameter, 110-foot-long (5.4-meter-diameter, 33.5-meter-long) rocket was loaded inside ULA's R/S RocketShip vessel and shipped to the Port Canaveral Poseidon wharf. The 2,000-mile trek began Feb. 4 and RocketShip arrived the evening of Feb. 12.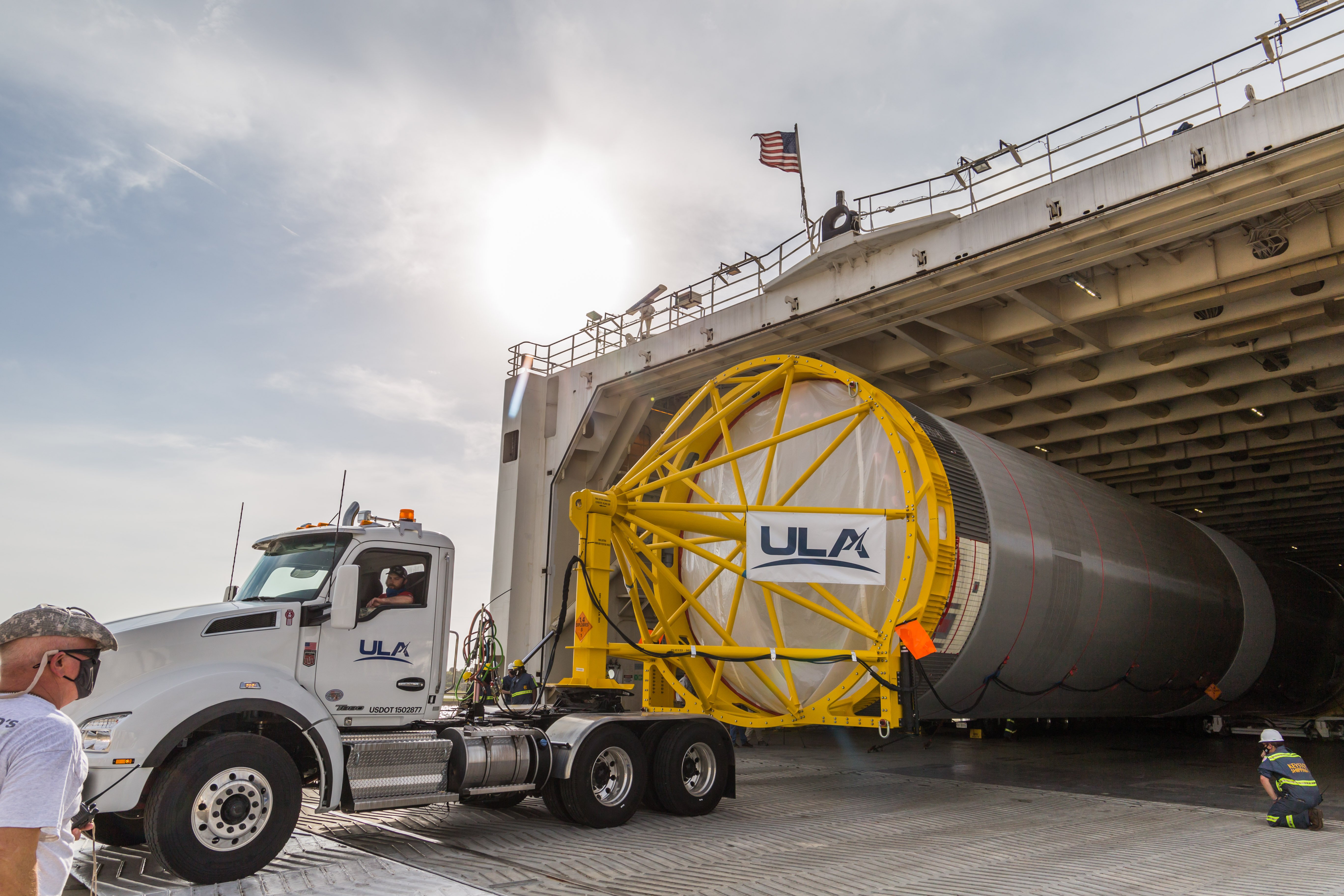 The stage will be used as a pathfinder and undergo testing at the Vertical Integration Facility (VIF), the new Spaceflight Processing Operations Center (SPOC) and the Space Launch Complex (SLC)-41 pad to prepare for future operational Vulcan launch campaigns.
The pathfinding familiarizes the ground crew and the launch team with the advanced rocket, getting them accustomed to the enhanced techniques for pre-flight processing and running the countdown to configure a Vulcan for flight.
The first exercise, known as Launch Vehicle on Stand (LVOS), will see the rocket delivered to the VIF and hoisted upright onto the Vulcan Launch Platform (VLP). This operation tests the hardware, procedures and clearances for maneuvering the massive stage into the VIF.
Later, the VLP will move the PTT booster to the pad for the first tanking tests in which liquefied natural gas and liquid oxygen are transferred into the booster. The milestone will demonstrate the extensive modifications performed to transform SLC-41 into a simultaneous dual-use site for both Atlas V and Vulcan.

Lessons learned from the first tanking test will be applied to a subsequent rehearsal to further refine countdown timelines and hardware settings.

Once satisfied with the PTT test campaign, the stage will be removed from the VLP to make way for stacking of the first flight article Vulcan rocket destined to perform the inaugural launch.

PTT is a flightworthy booster that will fly to space in support of a future mission. Its development BE-4s, which were extensively hot fired, will be swapped out with flight engines prior to launch.